ZONE1
Curator: Tjaša Pogačar
Julia Belova | Galerie Rudolf Leeb
Schirin Charlot Djafar-Zadeh | Suzie Shride
Parastu Gharabaghi | City Galerie Wien
Gašper Kunšič | house of spouse
Nika Kupyrova | RAVNIKAR GALLERY SPACE
Agnieszka Polska | Georg Kargl Fine Arts
Anne Schmidt | VIN VIN Gallery
Selma Selman | acb
Šimon Sýkora | POLANSKY

With the kind support of the Federal Ministry for Arts, Culture, the Civil Service and Sport.
---
The exhibition format ZONE1 exclusively features artists under 40, who live, work or have been educated in Austria. Since 2015, ZONE1 has been one of the highlights of the fair and is highly valued by art experts and visitors. This year, it is curated by Tjaša Pogačar.
Tjaša Pogačar is a curator, co-founder, and editor-in-chief of Šum, a Ljubljana-based magazine. She worked with the Museum of Contemporary Art Metelkova, Škuc Gallery, and Aksioma Project Space in Ljubljana, among others, curating solo and group shows and collaborating mainly with the younger generation of artists. In 2019/20 she curated two editions of IFCA – International Festival of Computer Arts in Maribor, titled "Automated Ecologies and Infrastructure Complex: Altered Earth" that focused on questions arising from the intertwining of technology and planetary ecologies. In addition, Pogačar works as a curator and producer of new media art at the Projekt Atol Institute in Ljubljana and is the curator of ISKRA DELTA – 34th Ljubljana Graphic Biennale. In September 2022, she will curate the ZONE1 of viennacontemporary at Kursalon Vienna.

 

"My curatorial work has been shaped in dialogue with art practices that nurture critical awareness and exploration of radical changes as well as possibilities that have been brought about by new technologies, practices that are motivated by the desire to inhabit a different reality than the socially, politically, and ecologically precarious one that we inherited, and the ones that beyond merely reflecting on the current state of the world also imagine, prototype and test out new scenarios and narratives for other possible (not just human) futures. I am

excited to take on the role of curator of this year's ZONE1 as it presents an opportunity to expand this dialogue and my field of interest with questions, approach, and perspectives of a young generation of artists in Austria."

— Tjaša Pogačar
EXHIBITED ARTISTS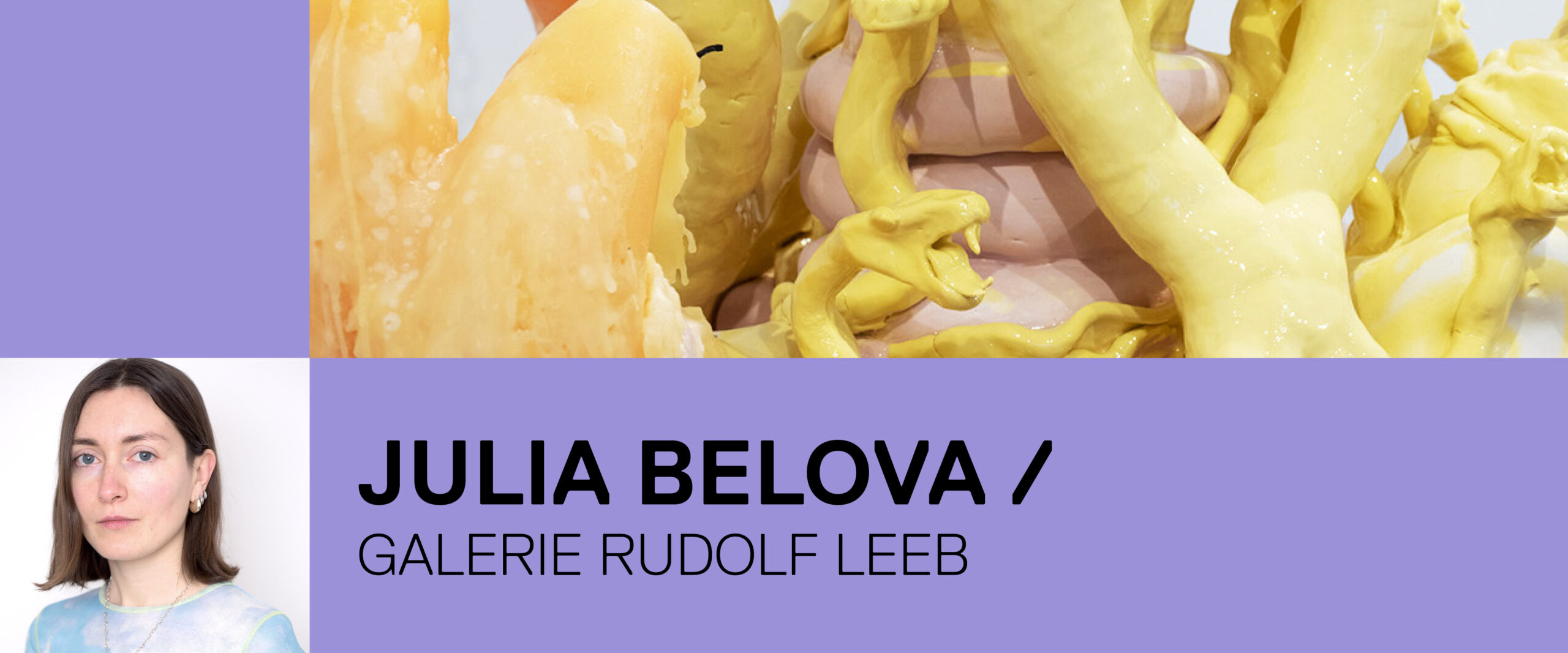 Julia Belova

born in 1991 in Tver, Russia, is a sculptor living in Vienna.

In her artistic practice, Julia Belova explores the relevance of the Baroque period and connects this time with the present. She experiments with the aesthetics of the religious Baroque and creates a collage of its elements, fetishizing physicality, and sexuality. Through plastic porcelain, which she uses as the main material for her sculptures, she explores the main conflict of this absolutist era, the conflict between a social role imposed by society and individual authenticity. According to the artist, this conflict still exists today, especially for women and representatives of the LGBT+ community. The vibrant life of her body objects stands in stark contrast to the lifeless porcelain from which they are created. As part of viennacontemporary, the artist is planning a new series of porcelain objects. She wants to explore the baroque with regard to the theme of death and create a dystopian-looking world that refers to current world political events on several levels and brings baroque motifs such as memento mori or vanitas into focus.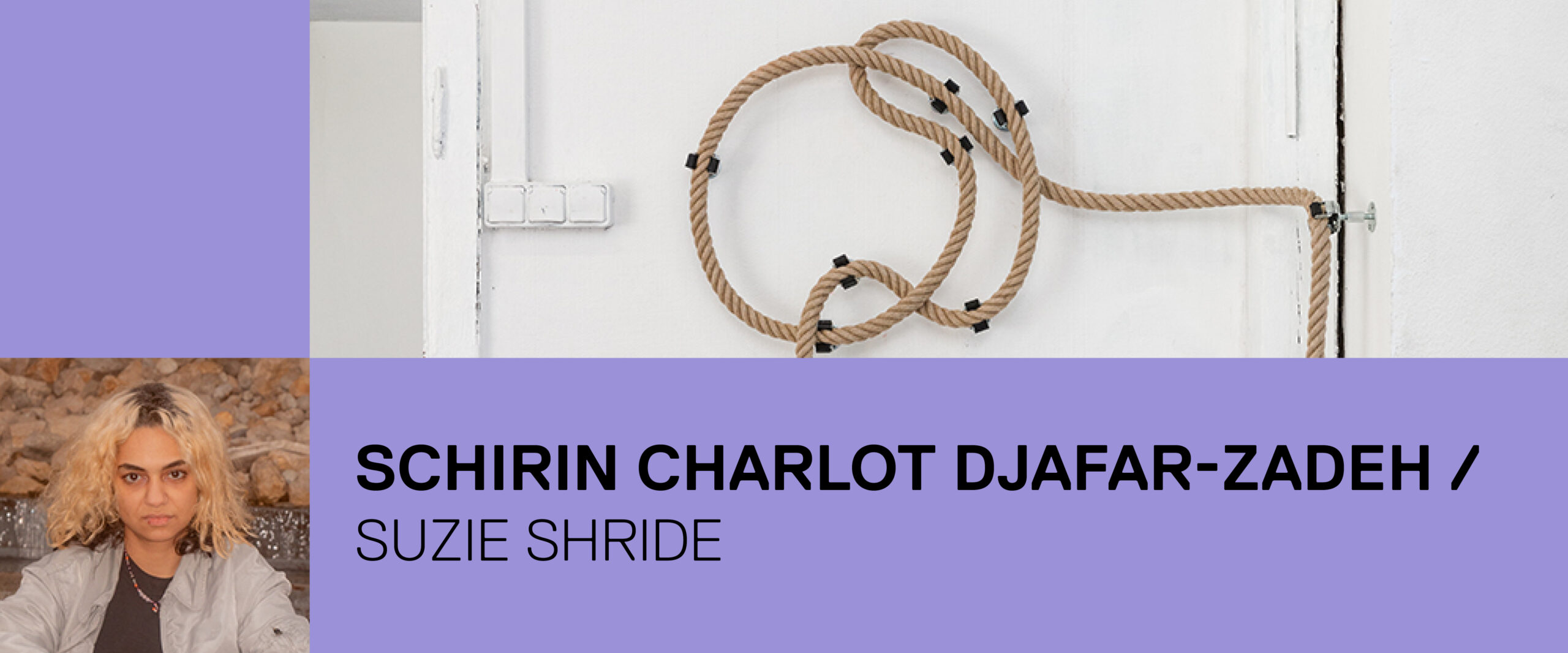 Schirin Charlot Djafar-Zadeh

is an artist from Vienna with roots in Iran.

Born and raised in Vienna, Schirin Charlot Djafar- Zadeh studied with Daniel Richter at Erweiterter Malerischer Raum, Academy of Fine Arts Vienna, and at Glasgow School Of Art, Department Sculpture and Environmental Art and received her diploma in 2020 with a Solo Show at Suzie Shride, Forever 21. In her works, she investigates cultural modification and human intervention in nature. She juxtaposes self-reflection to self-portrayal, self-discovery to self-modification. Her installation works question social conformity. Her latest shows include Making Out Chapter 2, Come Over Chez Maliks, Hamburg, Through Puberty To Success, Shore Gallery x Suzie Shride, Vienna, They Grow Up So Fast, (solo) Kreuzberg Pavillon, Berlin Phantasmatic Riff, Untere Augartenstraße 26, Vienna, SPEND SECONDS OF HAPPINESS, (solo show) Fonda, Leipzig, The Crossdresser & the Phoenix, NEVVEN, Göteborg, Schirin Charlot Djafar-Zadeh, (solo show) New Home/Kammer Rieck, Berlin.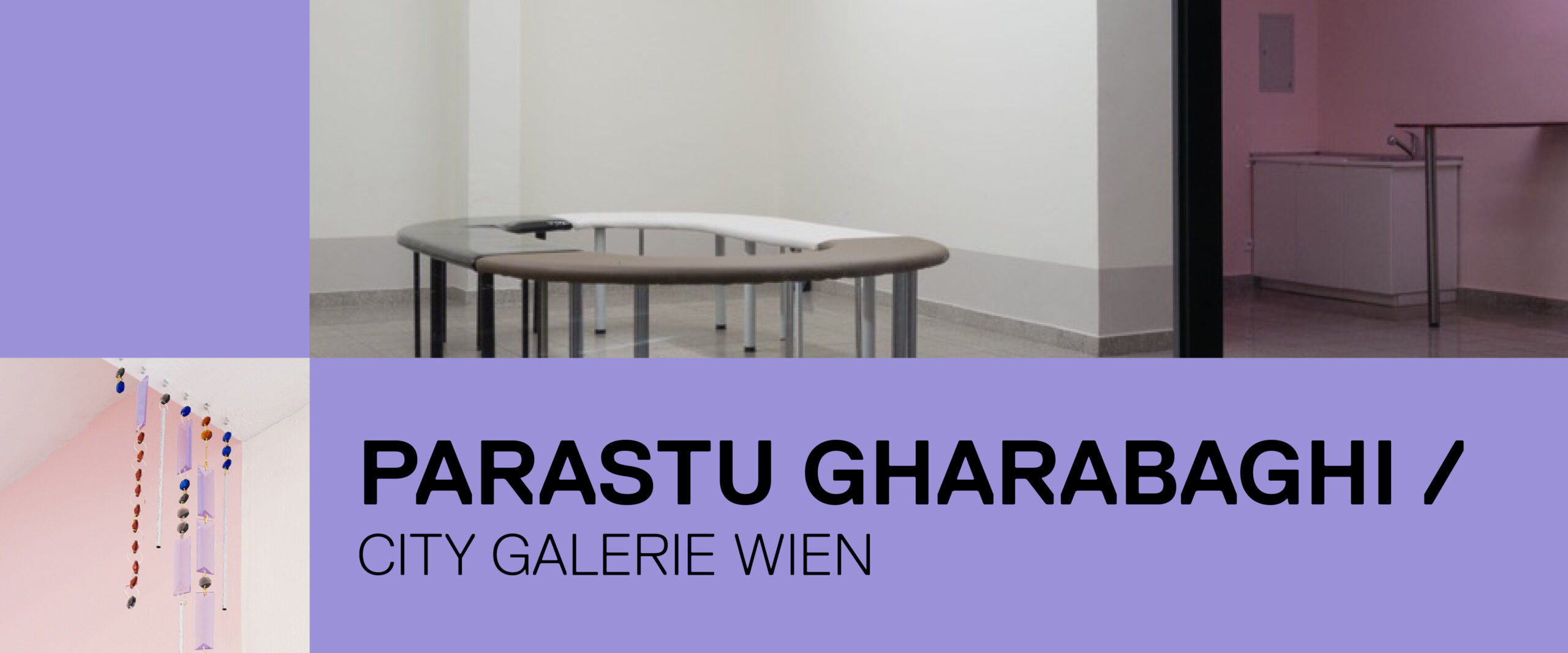 | | | |
| --- | --- | --- |
| Parastu Gharabaghi was born in Vienna, where she lives and works. | | Gharabaghi works with a variety of media including installation, sculpture, and video and their points of intersection. She investigates spatial conditions, objects surrounding daily life, and their assigned functions. Exploring her work one enters a system reminiscent of a disorienting dream, filled with estranged yet familiar elements. The repeating swaps, inversions, and ambiguities, and their subtlety make it a puzzling experience. As an analogy, one could think of the children's game of putting one's hand on top of the other's hand, continuously bringing a different angle or detail into focus, making visible what is often overlooked. Simulated stages, shadows of what we consider real intertwine with potential spaces bringing in-betweens into the foreground. Gharabaghi studied at The Academy of Fine Arts, Vienna as well as Slade School of Fine Arts, London. |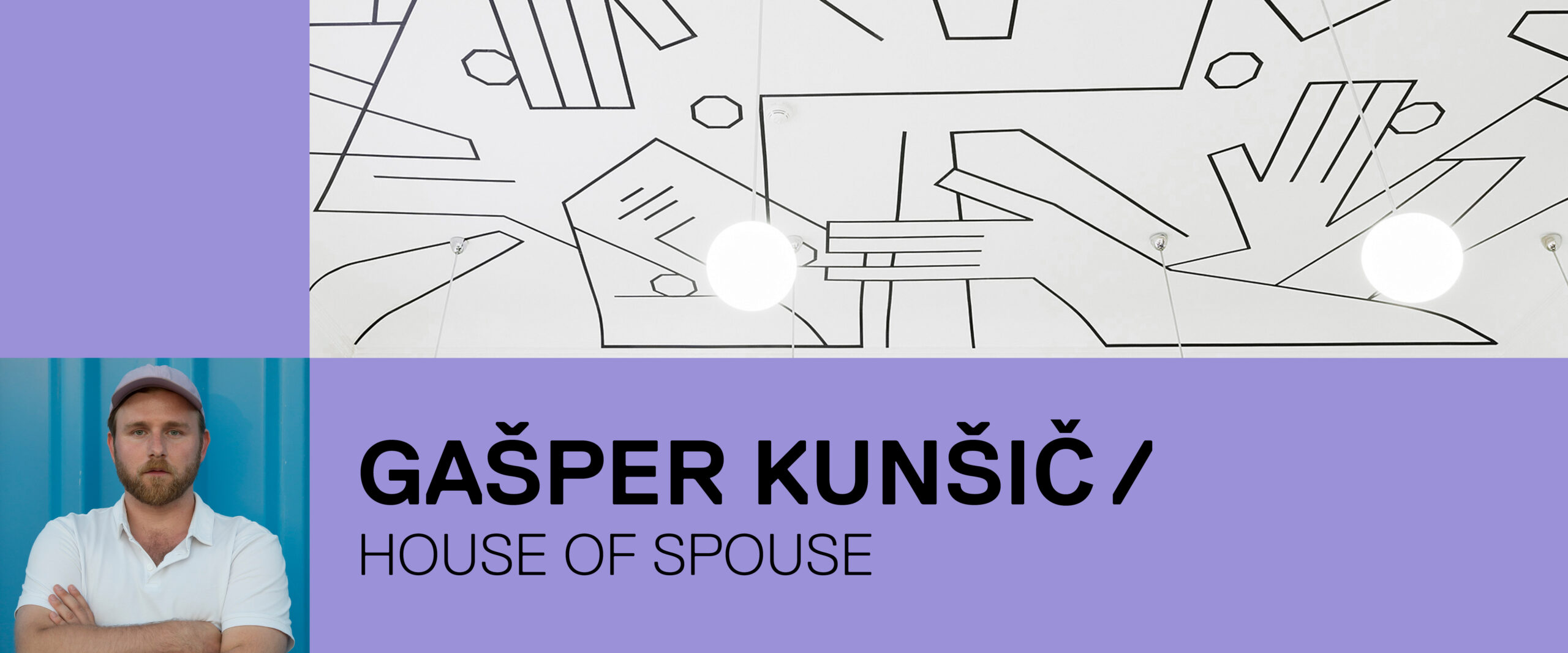 Gašper Kunšič
born 1992 in Slovenia, lives and works in Frankfurt and Vienna.

Having studied at the University of Applied Arts Vienna, the Academy of Fine Arts Vienna, and at Städelschule Frankfurt am Main,  Gašper Kunšič often uses his own biography as a point of departure for his artistic practice, adopting exhibition processes to alter the course of private and collective histories. Encompassing mixed media many of his works incorporate visual references from his native Slovenia and larger ex-Yugoslavian space and manifest as spatial installations through which the artist translates personal relationships into trans-media forms.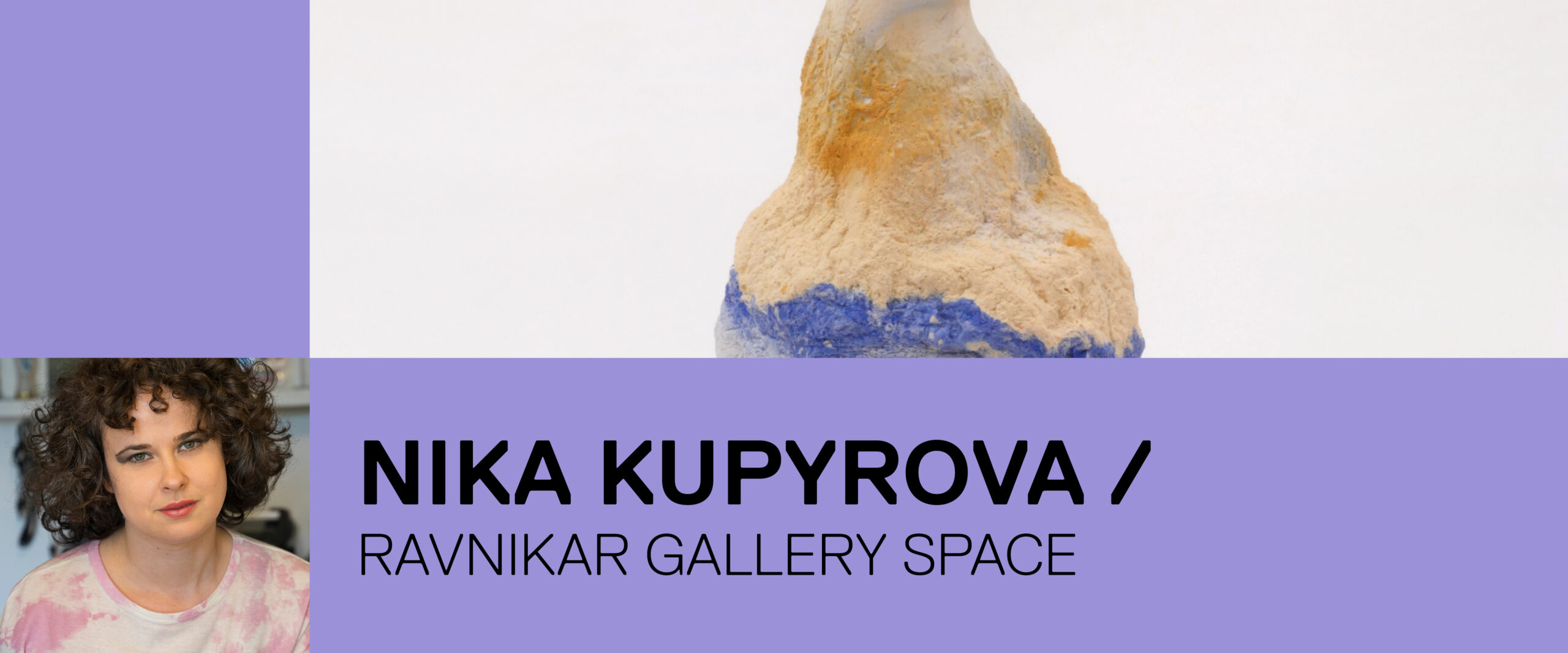 Nika Kupyrova
born 1985 in Kyiv, Ukraine, lives and works in Vienna and Prague.

Nika Kupyrova studied Painting at the Edinburgh College of Art, Fine Arts at the Iceland University of the Arts and Transdisciplinary Art at the University of Applied Arts in Vienna. Exhibitions include Karlin Studios FUTURA (Prague), WIELS Contemporary Art Centre (Brussels), EXILE Gallery (Vienna), Mattress Factory Museum of Contemporary Art (Pittsburgh), Belvedere 21 (Vienna), SODA Gallery (Bratislava), Kunstraum Niederoesterreich (Vienna) and Meetfactory Centre for Contemporary Art (Prague). Nika Kupyrova is a recipient of Erste Bank ExtraVALUE Art Award (2017) and Austrian state scholarship for emerging artists STARTStipendium (2019) – her works can be found in the collection of the Federal Ministry of Austria in (Artothek des Bundes) in Belvedere 21, collection of Wien Museum (Austria) as well as collections of Fait Gallery (Czech Republic) and the Mattress Factory Museum of Contemporary Art (USA). Taking its name from a randomly generated WLAN password, Kupyrova's work series Yaekahngai, which is shown at viennacontemporary, considers the screen to be a portal to hypothetical parallel worlds, with entry prerequisite to having access to the right gate and the correct digital key. The artist re-imagines the exhibition space as a system driven by a subterranean mushroom network – and yet the pseudo-organic algorithmic repetition of shapes and hues is more similar to an immersive computer game than it is to a real forest. Sculptures, reminiscent of standing stones, mark the points of transition into mythological realms – or have we already passed into another world unwillingly?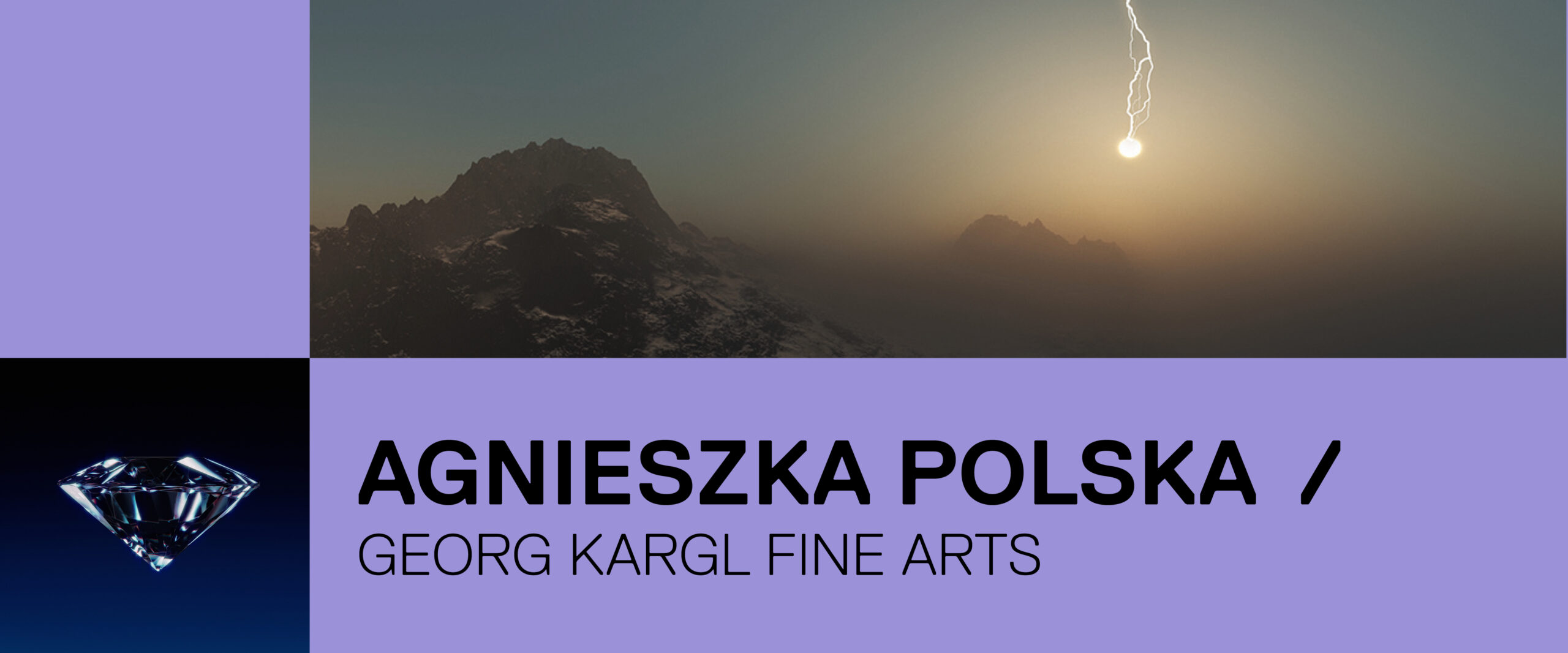 Agnieszka Polska
born 1985 in Lublin, Poland, is a visual artist who uses computer-generated media to reflect on an individual and their social responsibility.

She's attempting to render the ethical ambiguity of our time into hallucinatory films and installations. Polska has presented her works in international venues, including the Museum of Modern Art in Warsaw, the New Museum and the MoMA in New York, Centre Pompidou and Palais de Tokyo in Paris, Tate Modern in London, Hirshhorn Museum in Washington, DC, Hamburger Bahnhof, Berlin. She also took part in the 57th Venice Biennale, 11th Gwangju Biennale, 19th Biennale of Sydney, and 13th Istanbul Biennial. In 2018 she was awarded the German Preis der Nationalgalerie.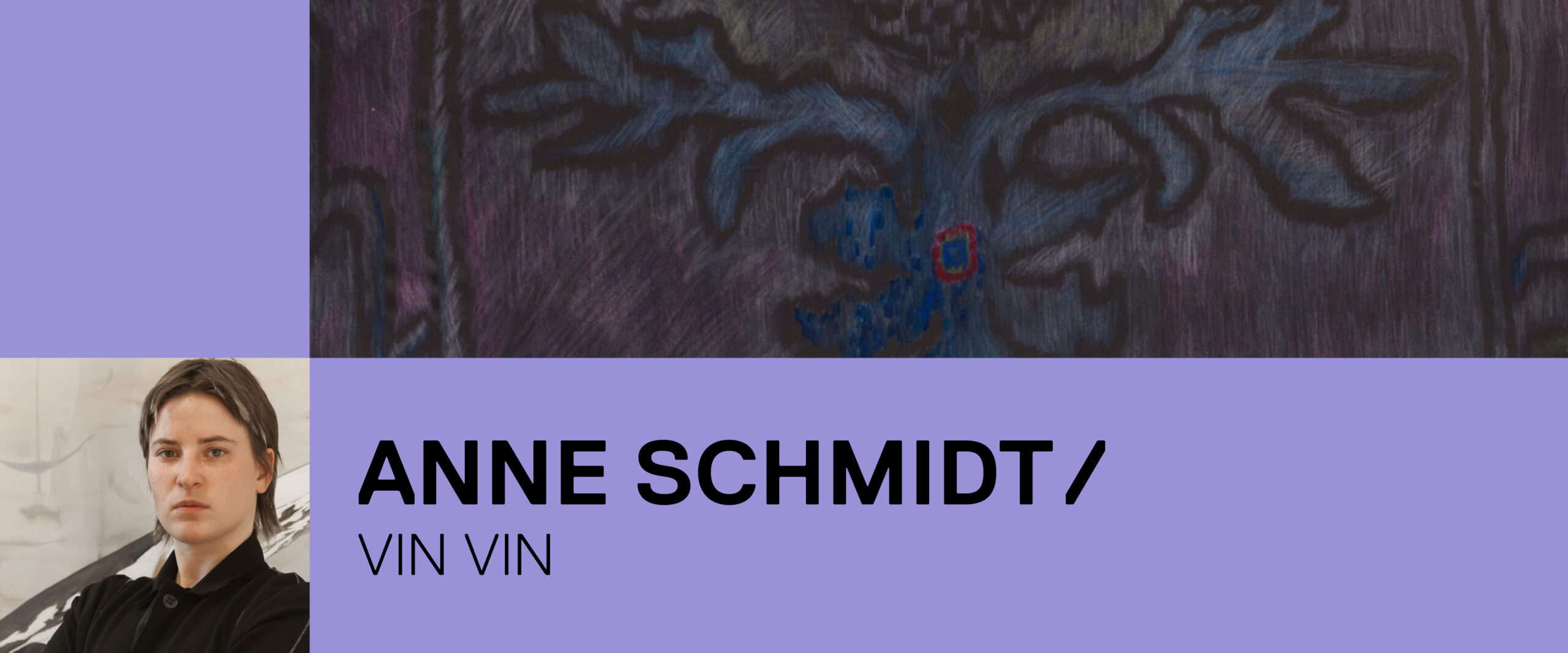 Anne Schmidt
born 1991 in Brandenburg, Germany,  lives and works in Vienna, Austria

Anne Schmidt studied Sociology and Philosophy at the University in Leipzig. Since 2015, she has been part of Julian Göthe's class at the Academy of Fine Arts in Vienna. Group exhibitions include: NOMINATED…, mumok, Vienna (2022); Once in a Blue Moon…, Una Galleria, Piacenza at Spazio Leonardo,  Milan (2021); Über das Neue, Belvedere 21, Vienna (2019). Solo  exhibitions include: FASERN GEHEN DURCH PFORTEN, Soloperformance  by Anne Schmidt, Sound by Phillipp Pettauer, Concept by Luca  Perfahl, Concept and Stage Design by Marei Buhmann, at BESTAND by  Samuel Zeichen, Sophienspital, Vienna, (2021); Michelangelo, VIN VIN, Vienna (2020); Buffalo Bill, Aquarium, Akademie der  bildenden Künste, Vienna (2015). In the series Carpets shown in ZONE1, Anne Schmidt refers to a movie still from Parallel 3 by Harun Farocki, 2012. The four-part cycle Parallel deals with the image genre of computer animation. The series focuses on the construction, visual landscape, and inherent rules of computer-animated worlds. The carpet is painted with used motor oil and colored pencil on polyester.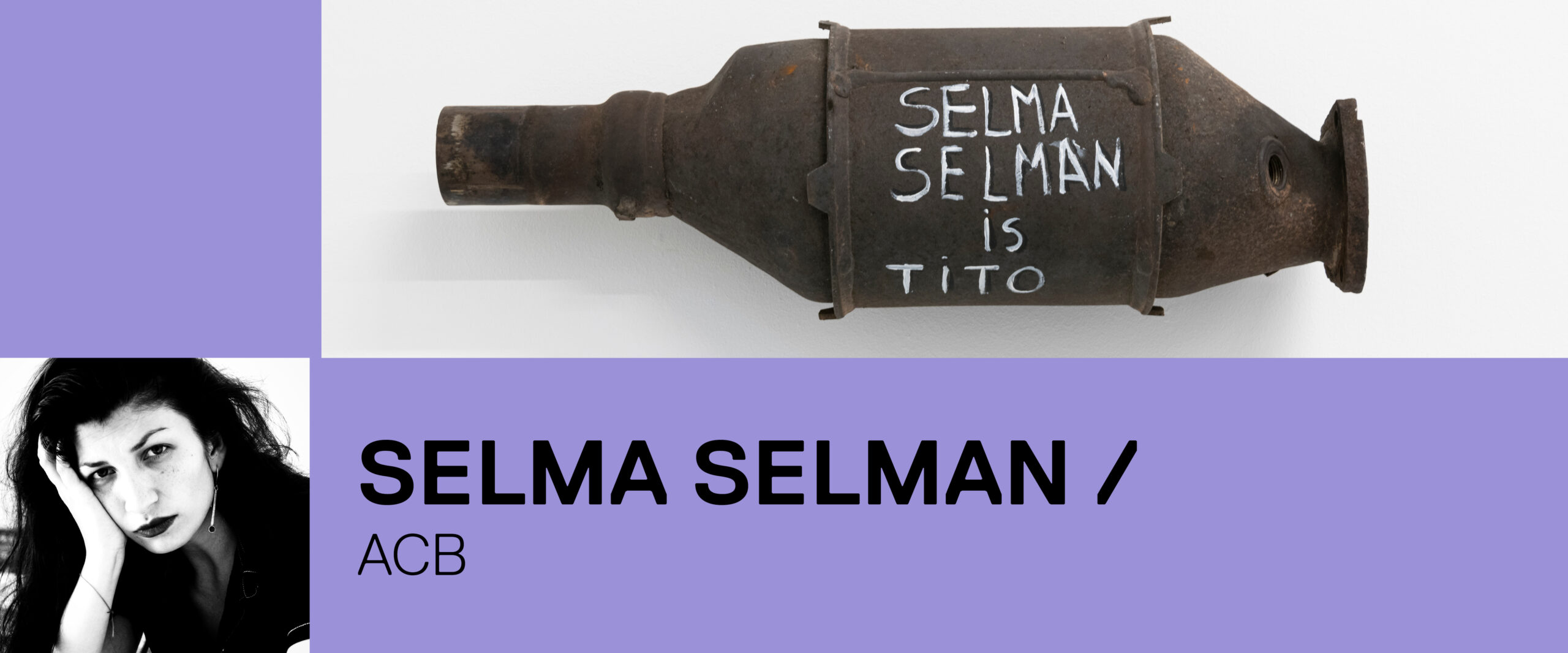 Selma Selman
born in 1991 in Bihać, Bosnia and Herzegovina, lives and works between Bosnia, the United States, and the Netherlands, where she studies at the Rijksakademie van Beeldende Kunsten.

Selma Selman is one of the youngest flag-bearers of a long tradition of critical and political performance from the ex-Yugoslav area, who works with performance, video, photography, drawing and painting. Her practice both embraces and blasts the stereotypes about Roma people by referring to her personal experience and life situations, but also focuses on her condition as a young woman artist of Roma origins from Bosnia. Selman's paintings on scrap metal are a personal visual diary composed of – sometimes symbolic – self-portraits, portraits of her family, depictions and impressions of everyday life scenes in Bosnia as well as reference to characters or works from art history that have been determining for her. The scrap metal onto which she realizes these works is a reference to her family's struggling existence, her father collecting such metal pieces to sell them in order for his family to subsist. By using this material for her paintings, the artist symbolically transforms this seemingly useless surface into a conveyer of her message, her origins into a strong base to build on and transcend misery, discrimination, and stereotypes. Her series of drawings form an even more intimate body of works as they reflect her struggle, sufferance, and discomfort with her own female body and all the gender-based expectations that society and especially her own family are attaching to it. Selman earned a Bachelor's degree from Banja Luka University's Department of Painting and graduated from Syracuse University in 2018. Selman was awarded the "Zvono Award" for young artist in Bosnia (2014), the "Trieste Contemporanea Award" (2017), the White Aphroid Award, Maribor, (2019) and was nominated for Forbes 30 under 30, Art and Style, (2018). Selman's works have been exhibited at: Manifesta 14 (2022) documenta 15 (2022), Museum Fridericianum, Kassel (2021), National Gallery, Sarajevo (2021), Kunsthalle Wien (2020), L'Onde Center for Art, Paris (2020), 58th Venice Biennale (2019), Queens Museum, New York (2019), Villa Romana, Firenze (2019), The Creative Time Summit, Miami (2018), 3. Berlin Herbstsalon, Maxim Gorki Theatre, Berlin (2017), Kunstquartier Bethanien, Berlin (2016), and Museum of Contemporary Art, Banja Luka (2014). She has been exhibiting her works in private galleries in Vienna since 2016 (Gallery Schleifmühlgasse 12-14, Gallery Fluck, Galerie Michaela Stock), was a resident artist at Kultur Kontakt Austria in 2019, and in 2020 her works were shown in the exhibition  "… of Bread, Wine, Cars, Security and Peace" curated by WHW at Kunsthalle Wien.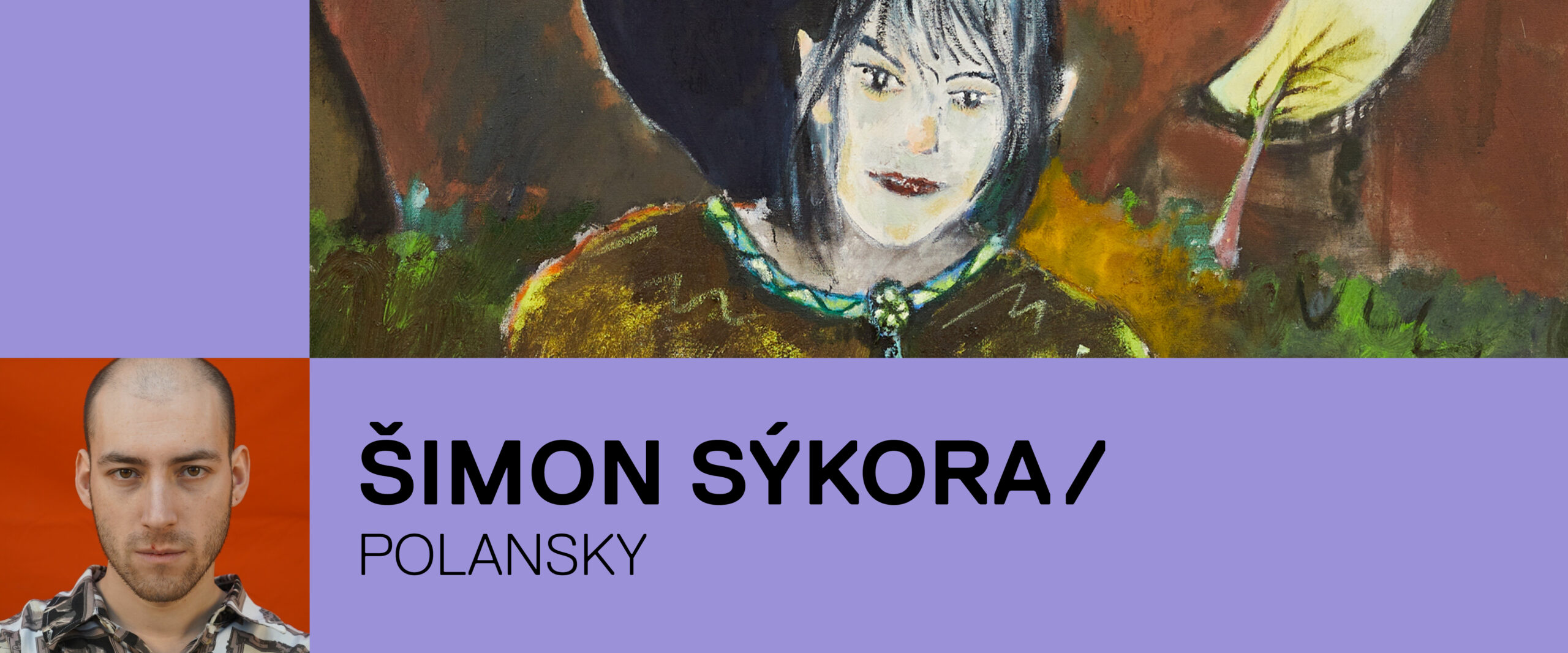 Šimon Sýkora
is a Czech painter, born in 1990, who lives and works in Vienna and Prague.

The comfortably melancholy works of Šimon Sýkora invite the viewer into a kind of hazy realm of wanderers and misfits. As if given the cold shoulder by a passing acquaintance, Sykora's paintings do not open themselves as much as make one feel like a voyeur overhearing mumbled conversations. Sýkora's compositions are largely comprised of shadowy figures resting, meandering, or passively daydreaming in recognizably disheveled spaces. Existing in a reality that is almost violently Bataillean, the works explore the more internalized notions of the human condition-rather imperceptible, but agonizingly present and powerful in shaping one's entire reality. Within the work, washes of anxiety, disappointment, regret, loneliness, mourning, and longing come to the fore.