Exhibitors
viennacontemporary offers the most intriguing selection of contemporary art in Central and Eastern Europe, an exquisite set of Austrian and international galleries, showing upcoming artists from Austria, the East and the West.
Complemented by other exhibitions and events at renowned contemporary art institutions in the city, such as curated by, the international art fair presents the best of Vienna´s flourishing art scene.
The team of viennacontemporary, spearheaded by artistic director Christina Steinbrecher-Pfandt and managing director Renger van den Heuvel, guarantees continuity and an excellent quality of service for exhibitors, collectors, representatives of art institutions, visitors, VIP Guests and press.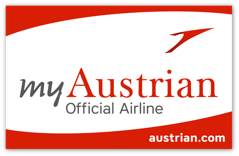 Book your flights to viennacontemporary 2017 online at www.austrian.com and save 15% on all applicable fares.
To do so, simply enter the following code in the eVoucher field on the Austrian homepage booking engine: VC17.
Conditions:
Booking period: now until 24 September 2017.
Valid for OS operated flights to Vienna and return as of 13 September 2017 until 1 October 2017 (final date for return flight).
Book your flights here!
Gallery applications for viennacontemporary 2017 are now closed.
Login to the online files for participating exhibitors 2017: 
Application details for viennacontemporary 2018 will be available to download from our website in early December. The deadline for receipt of applications will be March 2018.
viennacontemporary 2018
Preview and Vernissage 26 September 2018
Public days 27-30 September 2018
For further details please contact our exhibitor relations manager:
Tanya van Breda Vriesman
email
+43 699 19 33 33 20
Additional information: