ZONE1 | 2023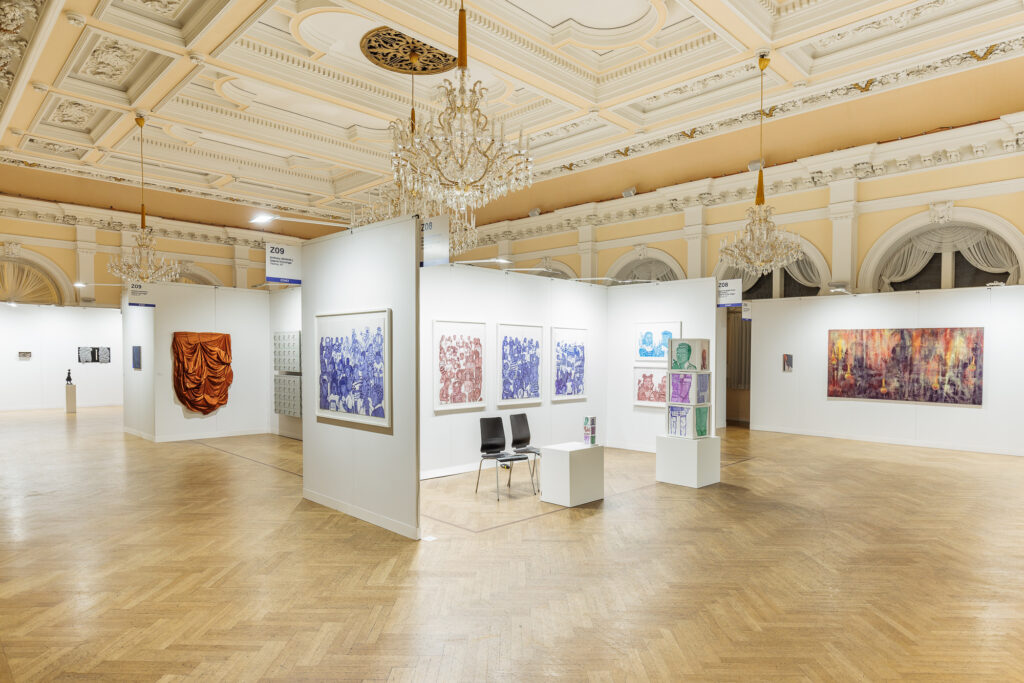 Curated by Francesca Gavin
Assunta Abdel Azim Mohamed | Galerie Ernst Hilger
Anthony Akinbola | Galerie Krinzinger
Brishty Alam | WONNERTH DEJACO
Irina Lotarevich | SOPHIE TAPPEINER
Elisabeth Molin | Sharp Projects
Matthias Noggler | Layr
Christiane Peschek | ALBA
Laura Põld | Kogo
Katharina Schilling | house of spouse
Julia Znoj | Windhager von Kaenel
---
"How do you bring together a generation of emerging artists? The ten emerging artists brought together in ZONE1 are linked not by medium or theme but by their approach to nuance. These artists are thinking around objects, identity, meaning, and aesthetics. There is a strong focus on physicality, sculptural elements, and installation in much of their work. This is contemporary art making that highlights tensions between intimate and outer influences. From the screen to textile, from vessel to the canvas, none of these works is didactic. Instead, they invite the viewer to enter a far more interesting grey area."

— Francesca Gavin
Based between London and Vienna, Francesca Gavin is widely regarded as one of the most trusted voices in the contemporary art scene. She is the Editor-in-Chief of the biannual publication EPOCH, which looks at the intersection of history and contemporary culture. She co-curated the Manifesta11 biennial, as well as exhibitions at the Palais de Tokyo, Somerset House, and Fondacao Serralves. She is also a contributing editor at Financial Times HTSI Magazine, Kaleidoscope, Twin, and Beauty Papers, has written ten books on visual culture, and has a monthly show on art and music on NTS Radio. She was the founding curator of the Soho House collection, creating a collection of over 3.000 works.
---
EXHIBITED ARTISTS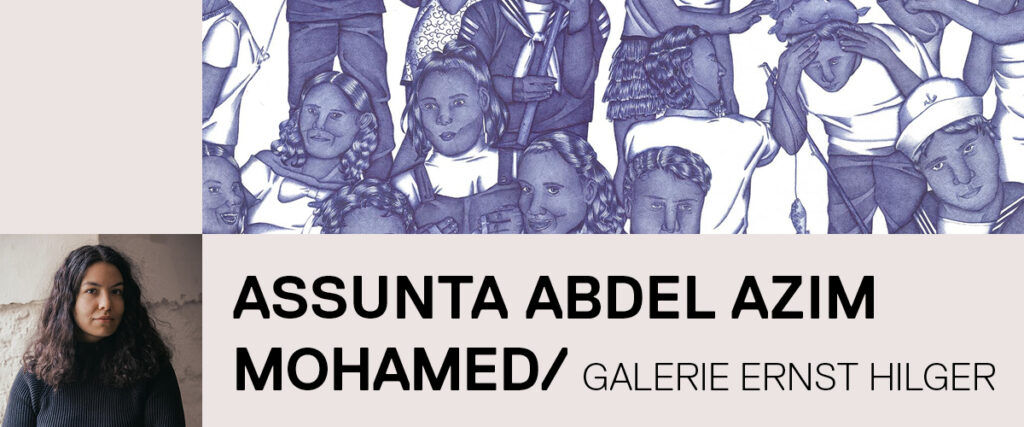 In her ballpoint pen drawings, Assunta Abdel Azim Mohamed explores interpersonal relationships and human interactions in daily life. The protagonists find themselves in surreal scenarios, seemingly plagued by inner restlessness. They engage in sensory experiences without actually finding amusement or pleasure. Symbols referencing art history, popular culture, and above all death and pain, are assembled into a dense visual language. Viewers are challenged to explore and interpret these sometimes obvious, sometimes subtle symbols for themselves.
---
Assunta Abdel Azim Mohamed, born in Klagenfurt in 1993, studied graphic arts and printmaking at the University of Applied Arts Vienna (Svenungsson). Her works have been exhibited in solo and group exhibitions internationally and are represented in important international private collections as well as institutional collections (such as the State of Upper Austria, Vienna Insurance Group). The artist has been honored with several awards, most recently the Füger Prize in 2020.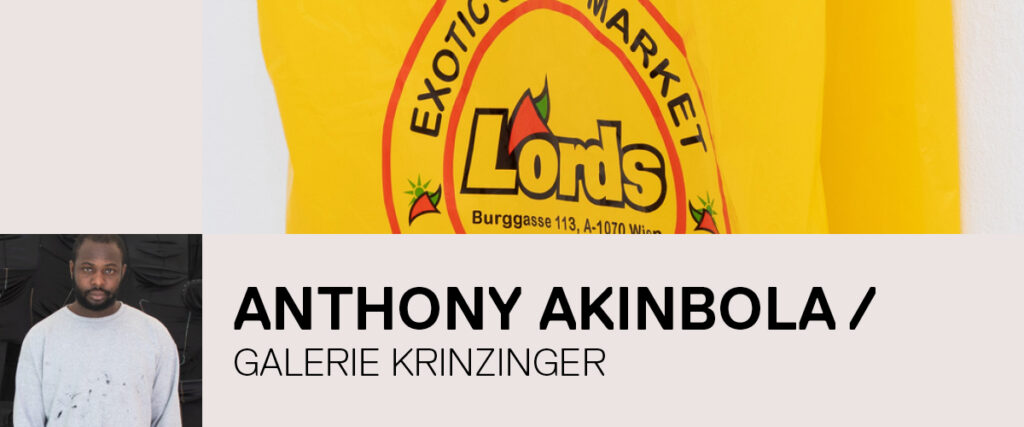 Anthony Olubunmi Akinbola abstracts elements from the social and natural world in an attempt to mitigate the space between abstraction and representation. He takes the multilateralism-principle and applies it to a variety of materials and objects. The result is a visual discourse around the conversation of globalization and an ever-converging world. His body of work engages conversations around global consumption and the commodification of culture.
---
Akinbola, born in Missouri in 1991, has had solo exhibitions at Sean Kelly in New York, Night Gallery in Los Angeles, Galerie Krinzinger in Vienna, Carbon 12 in Dubai, John Kohler Art Center in Sheboygan, and the Queens Museum in New York. His works have been featured in group exhibitions at Kunsthalle Graz, Hauser & Wirth in New York and Los Angeles, Pace Gallery in New York, and the Bernard A. Zuckerman Museum of Art in Kennesaw, among others. Akinbola's works are included in the collections of the Solomon R. Guggenheim Museum in New York and the Zabludowicz Collection in London. He currently lives and works in New York.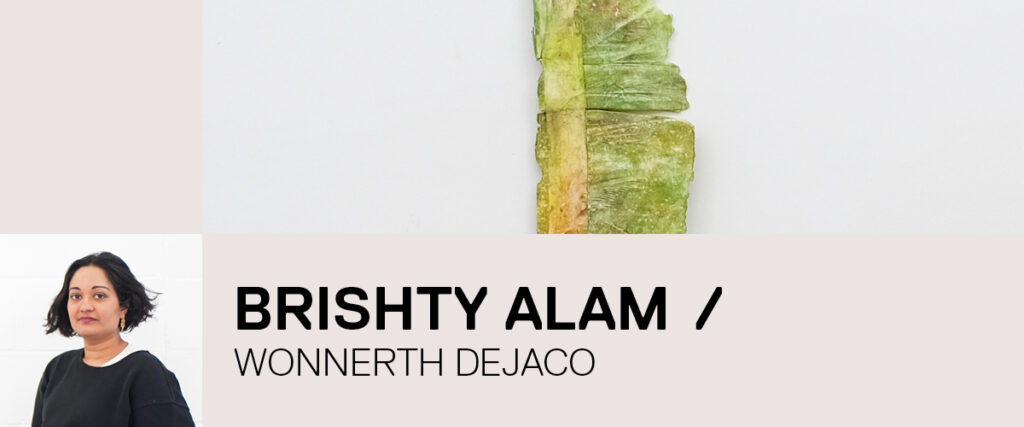 Brishty Alam's works are invested with a magical, shape-shifting quality. They adapt to, resist and converse with their environments, and when brought together, they unfold their many aspects in gregarious and often surprising ways.
---
Brishty Alam, born in London, graduated from the Academy of Fine Arts Vienna and completed her degree in Natural Sciences. She works with slippages between scientific models such as chemical structure, properties, composition, reactions, and what we might call social, cultural, political or economic processes. Exhibitions include Belvedere 21, Vienna (July 2023), Festival der Regionen, Lungitz (June 2023), GOMO, Vienna (2023), Memphis, Linz (2022), Neuer Kunstverein Wien (2022), Independent Space Index, Vienna (2022), Ajker, Tati, London (2022), French Riviera, London (2021), Haus Wien (2021), lntersectional Commeration Club Risograph Reader #1, Berlin (2021), Austrian Cultural Forum Warsaw (2019), Parallel Vienna Art Fair (2019) and the Center for Contemporary Arts Celje (2019). Alam lives and works in Vienna.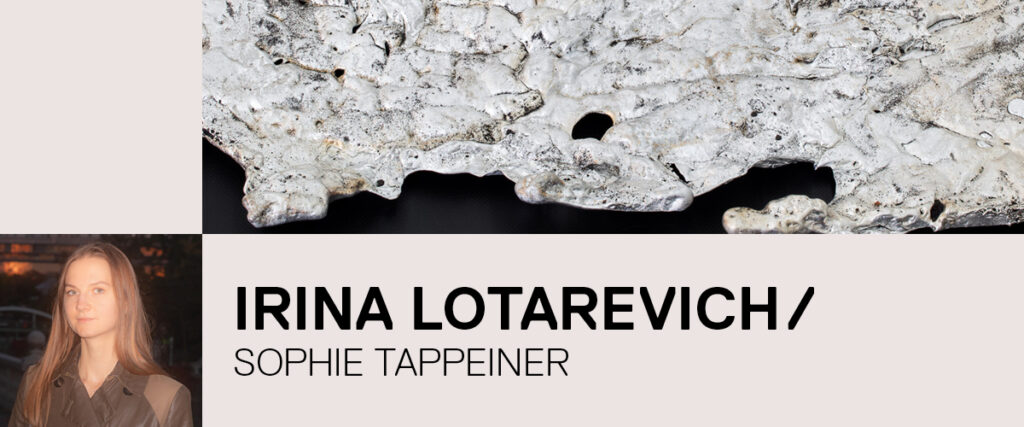 Irina Lotarevich's sculptural practice is shaped by the intersection of her own subjective experience within larger systems. Materially, she works with wood, metal, and casting techniques, frequently combining both high and low or de-valued materials with sophisticated fabrication techniques and a sensitivity to building spatial narratives. Lotarevich also interweaves her own writing and use of language into her work. The minimal yet complex and specific forms of her sculptures reference architecture, bureaucracy, labor, and parts of her body.
---
Irina Lotarevich, born in 1991 in Rybinsk, Russia, studied at Cornell University, Hunter College, and the Academy of Fine Arts Vienna. Recent solo and duo exhibitions include: 2023 Modular Woman, SOPHIE TAPPEINER, Vienna, 2020 Refinery, SOPHIE TAPPEINER, Vienna, 2019 Galvanic Couple, FUTURA Centre for Contemporary Art, Prague, Pensive State a two-person show with Anna Schachinger, SOPHIE TAPPEINER, Vienna, 2017 Schemas, Kevin Space, Vienna. Among others, she has participated in group shows at Belvedere 21, Vienna, CAC Passages, Troyes, Salzburger Kunstverein, Salzburg, Kunstverein Bielefeld, Bielefeld, MAK Biennale for Change, Museum of Applied Arts, Vienna. Lotarevich lives and works in Vienna.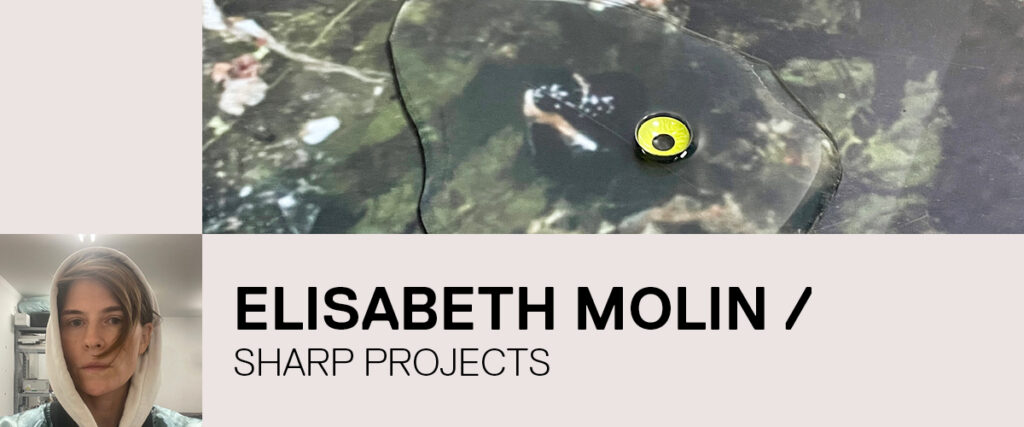 Elisabeth Molin's practice engages various media like objects, videos, and photographs, brought together through performance, installation, and writing. The latter has been a key stimulus for visual and audio work, but it works both ways. She is interested in gaps that open up, in stumbling across the uncanny, in uneasy moments which often belie the nearness of death. She has an acute sense of how to stage the almost non-existent, always with a gentle yet probing sense of humour.
---
The Danish visual artist was educated at Chelsea College of Art and the Royal College of Art in London. Molin has shown her work, among other places, at the National Museum of Lithuania in Vilnius, KW Institute in Berlin, Wiels in Brussels, Belmacz and Sundy in London, das weisse haus in Vienna, ISCP in New York and at Lagune Quest and Sixty Eight Art Institute in Copenhagen. She has shown her videos as part of the Images Festival in Toronto, Stuttgarter Filmwinter in Stuttgart, and The Medrar Video Festival in Cairo. Molin lives in Vienna and London.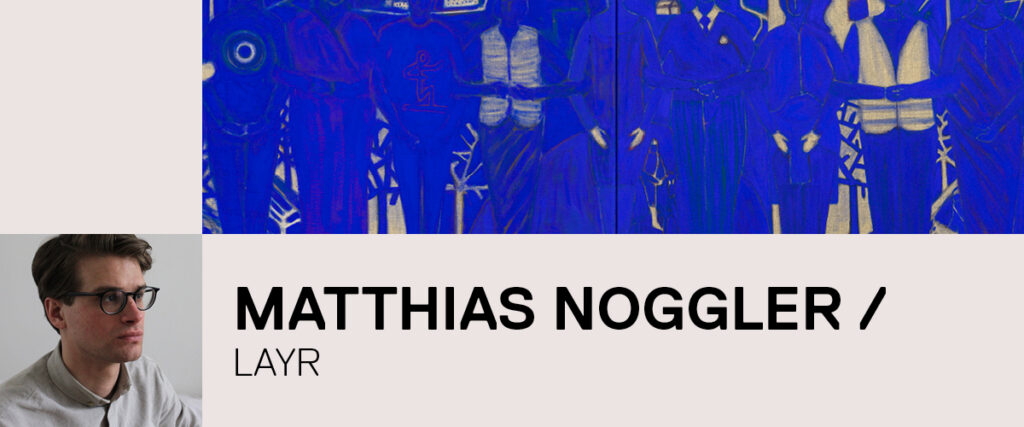 Matthias Noggler's paintings question the act of seeing. His figures stand in formations, on provisional stages, blurring into their surroundings, their bodies contorted to fit and pose. However, their stiffness and resoluteness have an activating quality. Noggler's work has long been characterized by the appropriation of various historical references and painterly styles. In his latest series of works the canvases are loaded with knowledge about the failed potential of modernist political painting. The resulting works are abstracted images which no longer hold hope for grand actions, but attempt to hold the viewer in an unresolved tension of perceiving.
---
Matthias Noggler, born 1990 in Innsbruck, Austria, studied at the Academy of Fine Arts, Vienna. Recent exhibitions and contributions took place at Drei, Cologne (2023, solo), Layr, Vienna, Ferdinandeum, Innsbruck, Wunder-Bar, Vienna, Universitätsgalerie im Heiligenkreuzerhof, University of Applied Arts, Vienna (all 2022), Belvedere 21, Vienna (2021), Callirrhoë, Athens (2020). His works are included in the public collections of the Republic of Austria, the City of Innsbruck, the County of Tyrol, the Klocker Foundation, Tyrol, Lentos Kunstmuseum, Linz, Landesgalerie, Linz, Wien Museum, Vienna, Print Room at the Academy of Fine Arts, Vienna, and Belvedere 21, Vienna,. Noggler lives and works in Berlin.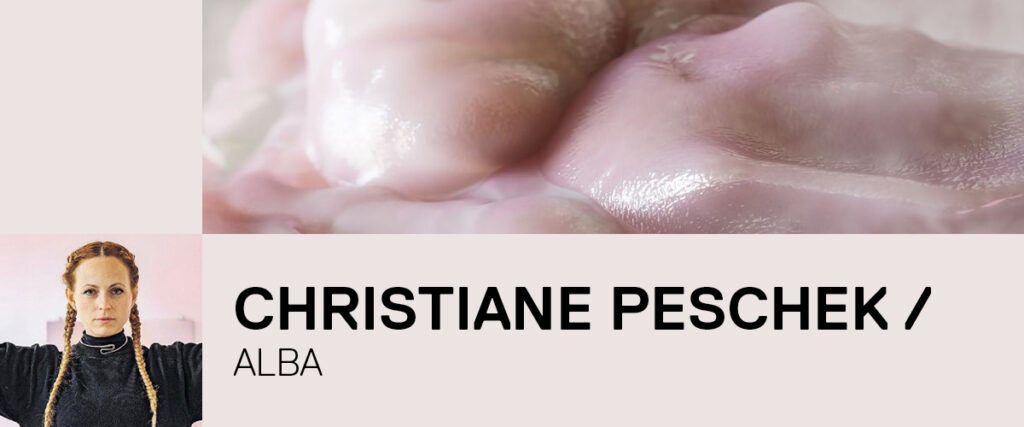 OASIS, Christiane Peschek's work at ZONE1, stands as a potential sanctuary at the end of the Anthropocene, a safe space where a nonbinary, value-free, and inclusive corporeality is living. It is a post-body spa, where self-care practices meet cyber-humanism, playfully stimulating awareness of expanded corporeality in the digital field. The human being in its digitally expanded existence is polymorphic – it contains a multitude of manifestations and shapes with a vivid spirit. Realms of existence in the digital world are not subjected to the laws of the material space: bodies are neither bound to limited shells nor subject to gravity and require different attention than their fleshly counterparts. With OASIS, the artist aims to create a physical as well as a virtual space that moves between the material and the digital, where physicality is combined with a maximum of consciousness.
---
Christiane Peschek was born in 1984 in Austria and studied at the Academy of Fine Arts Vienna as well as the University of Applied Arts in Vienna (class of Brigitte Kowanz). Her work has been exhibited in galleries and institutions such as the NRW Forum Düsseldorf, Museum MARTA Herford, U10 Belgrade, UNSEEN Amsterdam, Salzburger Kunstverein, and Benaki Museum Athens. Peschek was awarded several international prizes including the UNSEEN Tesla Art Trail award, the honor price of Emergentes DST, and the state scholarship for photography by the Austrian Government.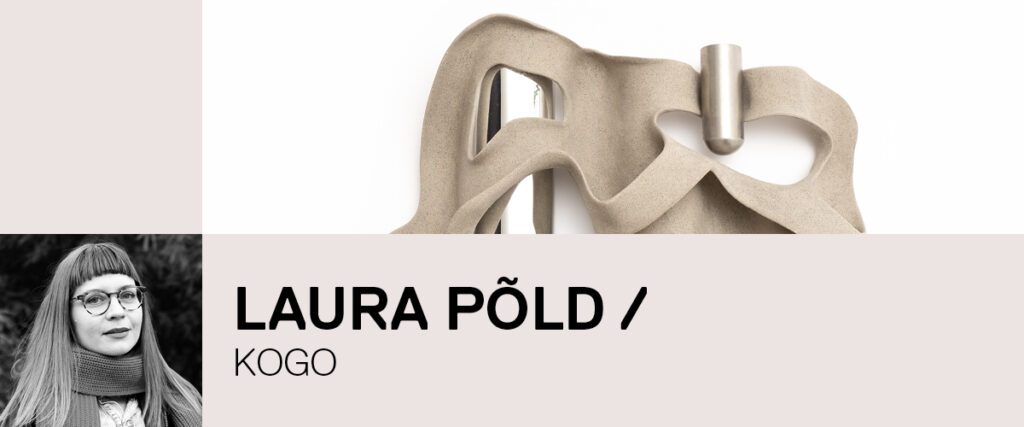 Laura Põld is continuously exploring environmental history, fundamental human and more-than-human skills, and needs. In her interdisciplinary crafts and sculpture-based practice, Laura Põld focuses on her choice of materials and their historical and political context, implementing traditional crafts and building techniques in ceramics and tufting, which interest her as modes for the preservation of stories, memory, and skills. Her often large-scale constructions or installations either take over or interfere with the allocated venue and/or its context.
---
Laura Põld, born in 1984, studied ceramics at the Estonian Academy of Arts, painting at the University of Tartu, and sculptural conceptions and ceramics at the University of Art and Design Linz. She has been awarded a number of prizes and scholarships such as the annual prize of The Cultural Endowment of Estonia (2014), Köler Prize Grand Prix (2016), the grand prize of The Cultural Endowment of Estonia (2018), the ISCP New York studio grant (2019) and the Claus Michaletz Preis (2021). The artist is currently based in Tallinn and Vienna.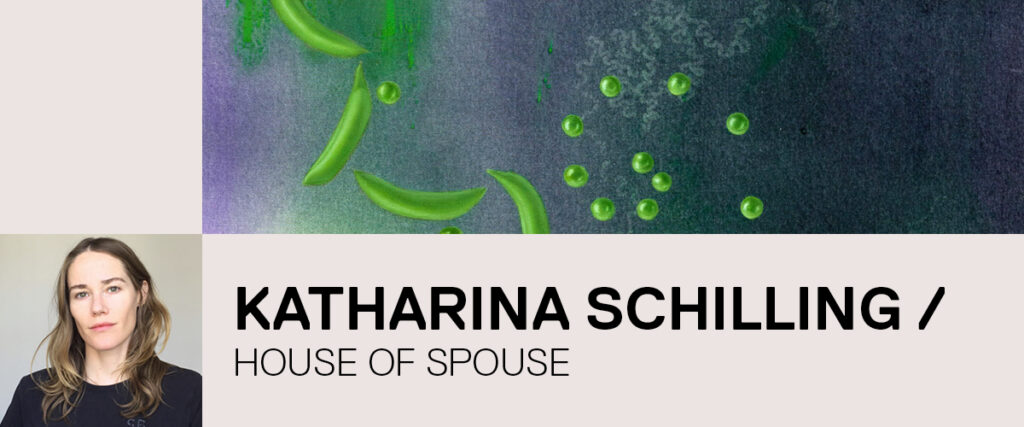 ​​Katharina Schilling primarily works in the medium of painting. She incorporates techniques and visual languages from various sources in art history, reflecting the interconnected nature of artistic production. Through the composition of images based on different painting approaches, often referencing the realms of painting production itself, past and present come together in a playful manner. Images, objects, and motifs are detached from their historical contexts and shifted within the painterly execution to create new contexts of meaning, revealing utopian potential within art history.
---
Katharina Schilling, born in Cologne in 1984, studied painting at the Academy of Fine Arts Leipzig and at Camberwell College in London. Recent solo projects and group exhibitions have taken place at institutions such as Kunstverein Potsdam, Kunstverein Leipzig, Galerie House of Spouse in Vienna, The Tail in Brussels, Stadium in Berlin, Museum der Bildenden Künste Leipzig, Kunsthalle Bremen, and Kunsthalle Recklinghausen. Her work has received awards including the Max Ernst Prize and the Marion Ermer Prize, and in 2018 she participated in the ISCP International Studio & Curatorial Program in New York. Schilling lives and works in Vienna and Berlin.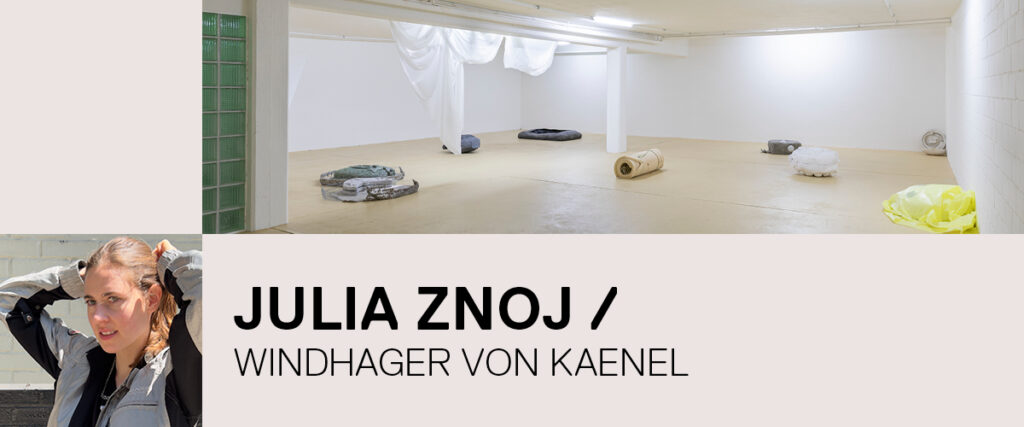 Julia Znoj moves through a variety of materials, such as metal, plastics, paper, sugar, vinyl cloth, and found objects. She engages closely with form and abstraction and how things materialize as sculptures in temporary settings. In her practice, she thinks about possibilities to alter physical and psychological fixations in space. Znoj incorporates her own writing into her practice and occasionally makes electronic music and videos.
---
Born 1990 in Bern, Switzerland, Znoj studied at the Zurich University of Arts and the Academy of Fine Arts Vienna (Heimo Zobernig). Between 2016 and 2020, she co-ran the exhibition space Gärtnergasse in Vienna. Recent solo and duo exhibitions include Rabattierei (2023), Kunstraum Satellit Thun, She is in it not not at all (2022), Kunstraum Schwaz, aquadrome bubblepad (2021), Unanimous Consent, Zurich, Chord Progression (2021), Academy of Fine Arts Vienna, The Prompter´s Clutch (2018) with Carina Emery, Vin Vin Gallery, Vienna (AT), and Anguish Immersed in Silane Chains (2016), Taylor Macklin, Zurich. Znoj's works are included in the Art collection of the City of Vienna, the Art collection of the canton of Zurich, and the Artothek of the Austrian federal government at Belvedere 21. Znoj lives and works in Vienna.