"My collection is my income!"
Collector Interview: Kamran Diba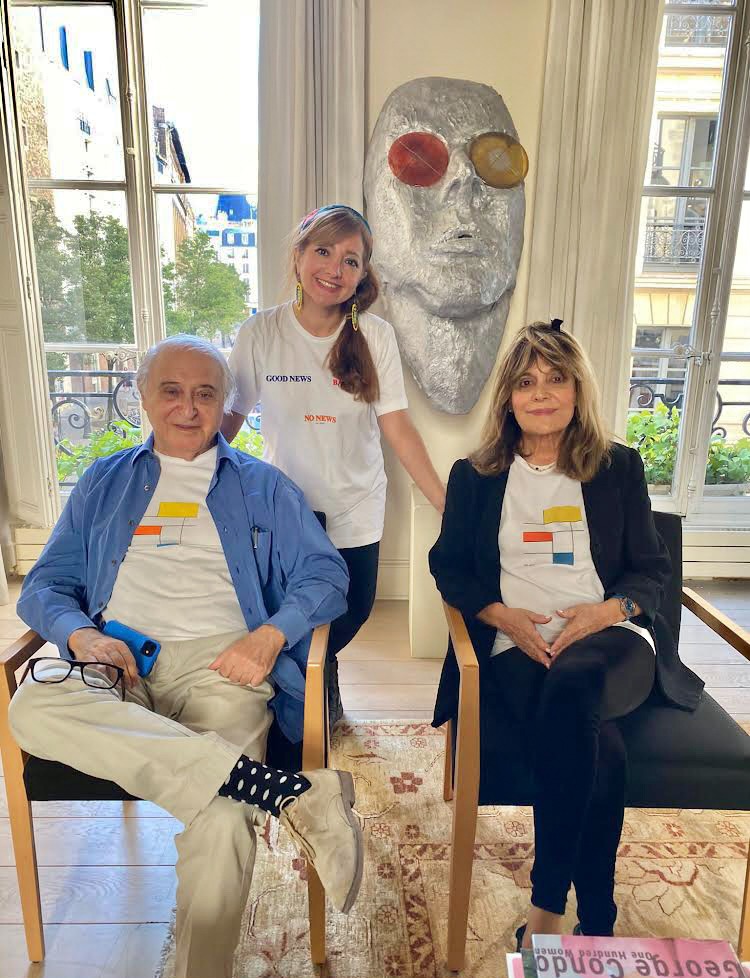 Architect, city planner, land developer, artist, collector, and director of the Museum of Modern art in Tehran – aged 85, Kamran Diba has more than enough talents to fill several lifetimes. In a conversation with viennacontemporaryMag, he reminisces about his friendships with the likes of Keith Haring to Ernst Fuchs, his efforts of establishing and running the first museum for modern and contemporary art in Iran, and laying the cornerstones of his impressive collection that allow him to live comfortably without any other source of income. 
---
What led you to the art world? How did you become a collector?
I don't see myself as a collector. You see, I started as a painter. Painters don't collect. They exchange work or collect colleagues and friends. That's mostly what I did.
Tell us about the beginning of your artist days. 
In the early 60ies, I went to architectural school in Washington DC, but in addition to technical sketches, I wanted to be creative. So, I started painting.  I was into New York School and Action Painting and my education was basically going to the museums in New York, mostly the Museum of Modern Art. I was especially influenced by two female American artists, Lee Bontecou and Louise Nevelson. Of course, I liked Willem De Kooning and my favorite artist was Franz Kline. To a certain extent, my abstract work was also inspired by Iranian calligraphy. I had a few shows in the US and participated in Iranian Biennials. They even censored my work at Paris Biennale. They were abstract sculptures, but you know how they are…
In 1965, after the assassination of President Kennedy, you went back to Iran and became very much involved in the art world. 
I painted a lot and sometimes collected the art of my friends, also to help them financially. Then I had the idea of making a club for artists in Teheran. It was called Rashd 29 – the name of the street – and became quite important at the time for the intellectuals and internationals. Even the prime minter came once. Hippies traveling around the world came to my club to make music and the artists who came started to donate their works and we hung them on the walls. When I closed my club after three years, this was the cornerstone of my collection.
And soon, you had bigger plans?
Yes, I wanted to make a museum with a cultural center and a library. I spoke to Queen Farah, who is my cousin, and she asked me to make a proposal to the Ministry of Culture. All the knowledge I had was from my experiences as a visitor, so I used the MOMA as the model for the proposal. Originally, I was only the architect, but since I also made the program, I saw that the queen started buying impressionists and international artists and basically everything that was offered to them, so I said stop, this was constructed as a museum for local contemporary art. So, we got a curator, and I gave him a list of what would be important to have. Eventually, in 1976, I became the museum director and did most of buying for the collection. This was how I also started collecting:  when I bought a Gilbert and George for the museum, I bought a small one for myself. When I got a large Dan Flavin for the museum, I bought a small one for myself. We bought Carl Andre, Pollock, De Kooning, Bacon, Gotthard Graubner,…
But then, the dream came to an end…
After the revolution, I left Iran with two Louis Vuitton suitcases, pretending to go on vacation. I would have been prosecuted and most likely executed. Most of my old collection was also lost in this process. Luckily, I had just bought a house in London. It had many old masters' paintings, but not important ones. I did not like those old rococo paintings, so I told my friend Nigel Greenwood and he brought me a Dennis Hopper portrait by Andy Warhol.
How did you decide what to buy?
In the 80ies I was in New York, and told my friend Elie Broad, who was only collecting Californian artists: Whatever you see, you buy! Some of them will become big, others won't. And I pretty much followed my own advice, in my possibilities. I started buying like mad. I suppose I became an addict, like a gambler, to buying art.
The first work I bought was by Keith Haring. He was very friendly to me. I lent it to Salzburg Museum, it is still there. Also, Julian Schnabel, whom I know. George Condo was in Paris and he gave me a two-sided drawing in place of his rent. He was a poor man. You know, in the 80ies, New York had a small art scene, and I was at all the parties, in the restaurants, at the openings. Mary Boone had a show of Basquiat, I bought two, and then when you buy, they invite you for dinner and you meet the artists and other people.
You got your hands on Basquiat's works when he was still alive, amazing!
The first Basquiats I bought from Gagosian for $20.000. I had actually been offered one for $8.000, but I did not have the money back then, so I had to earn it, but when I came back, the gallerist told me: "Now, the price is $14.000." This is when I said: "Go to Hell, I don't want it!". What a mistake! Then, suddenly there was a big waiting list on Basquiat in New York. It was only when I went to Eli Broad's house, I saw those Basquiats in the staircase and he told me that he got it from Larry (Gagosian) and that he might still have some. Larry took me to a garage, where I saw three Basquiats so we shook hands and that was my big buying of Basquiat. I have lived off these paintings for many years.
You actually live off your collection?
My collection is my income! I have been living well for the last 42 years without a salary. When I needed to buy an apartment in Paris, I sold a Basquiat.  Or I wanted a property in Spain, so I sold some paintings. My original wealth post-revolution comes from real estate development, which I liquidated and bought art. Whatever money I made, I bought art from it. My storage is not that big, but I lent for example the Geneva Museum of art six or seven pieces of Olivier Mosset and Donald Baechler, who was also a good friend of mine in New York.
Do you have a favorite piece of art?
It's like asking whether I have a favorite woman. There are so many wonderful women in the world! We have really nice Franz West sculptures in our house. He was also a friend of mine. He wanted to come and stay with us in Spain, but before that he passed away. The first piece I bought from Gallery Hussenot in Paris, then from Larry, and in an auction from Phillips & Co I bought a beautiful one – one of those masks. We bought extensively from Secundino Hernandez. I like his work. And a bit of Rudolf Stingel, there I have a fantastic one. But I don't like every painter. For example, I got rid of all the paintings I bought from Holly Sullivan. But other paintings I keep because they are not life-changing money, so I rather have them.
Do you still collect?
I have become more conservative; it's the age and I don't have any children. Also, art has nowadays become an investment commodity. In the old days, it was a passion. Now, there are a lot of speculators and billionaires to which money does not mean anything. It has become a little crazy, I have to say. You have hundreds of great artists in each field; people start copying each other. The 21st-century art market has become very quantitative as opposed to the qualitative 20iest century.
Will we see you at next year's viennacontemporary?
Definitely! Art fairs are like carnivals, I love them.
---
Kamran Diba's Advise for Collecting:
Collecting has to do with information and what you hear from other people. Some of it is from the ear and some of it is from the eye.

If you want to invest in a young artist, buy from a gallery! A lot of young artists get discouraged and burned out because they do not have proper representation. If they get in an established gallery system, they flourish. But many – maybe even more talented – artists perish due to lack of representation.

Educate yourself: You must know at least the 20iest century art history because a lot is repeating itself in cycles. You need to tell quality from fashion. Even so-called blue chip artists go out of fashion.

Don't waste your time on work on papers. Even a small work on canvas is more promising than work on paper.

Buy what you like, because you will have to live with it, maybe for the rest of your life.