TALKS
The Talks will take place from 2 – 4 of September in the viennacontemporary lounge @ Xpedit. 
Three viennacontemporary Talks aim at inspiring its visitors to imagine – and even to use – the City of Vienna as an artistic space. The Talks follow the overall form of this year's edition of viennacontemporary in its physical decentralization and its shift to gallery visits at their respective venues all around Vienna. We want to provide our visitors with a real experience of this city's marvelous crossroads of cultures.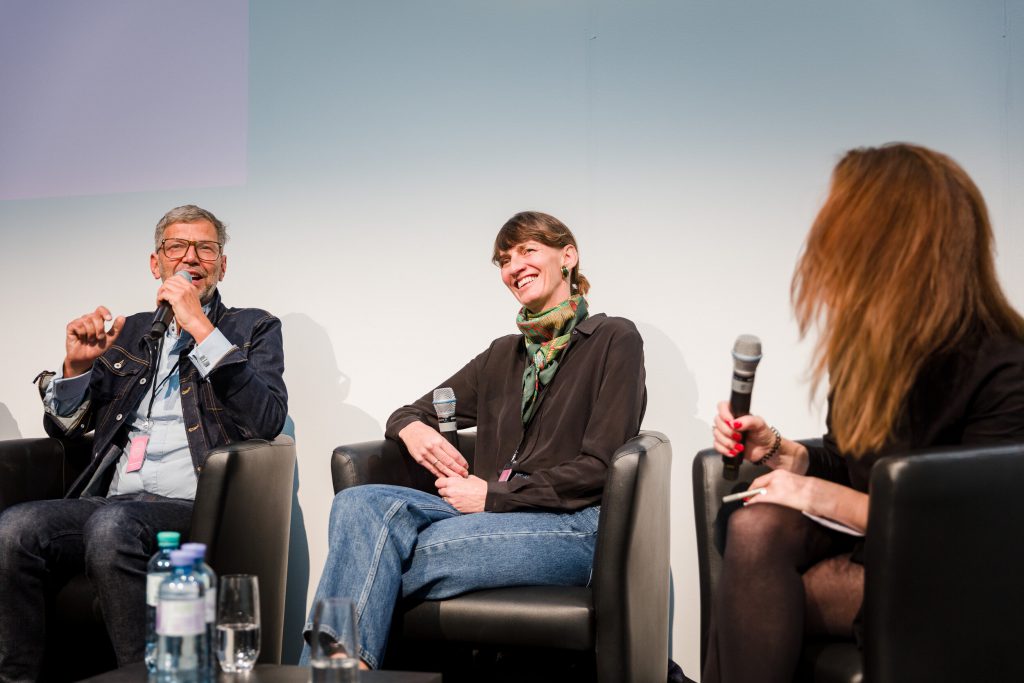 ---
Thursday, 2 September, 5:00 pm

THE CITY AS ARTISTIC SPACE 
This talk will focus on the role and function of art in urban development and try to imagine the city as a large studio of artistic experimentation and creativity.
with Veronica Kaup-Hasler, Executive City Councilor for Culture and Science of the City of Vienna

Zora Jaurová, Cultural and Creative- Industries Advisor of Mayor of Bratislava and member of the Bratislava City Foundation, member of European Creative Industries Alliance and Ateliers du Cinéma Européen

Boris Marte, Deputy CEO of ERSTE Foundation 
Moderation: Marta Dziewańska (Board member of viennacontemporary, curator at Kunstmuseum Bern)

---
Friday, 3 September, 3:00 pm

ARTISTIC CITIZENS
This panel consists of a group of emerging curators and critics from all over Europe and will focus on contemporary aspects of the artist, the curator and the critic as citizens. Brief individual contributions will create a broad spectrum of modes and possibilities of civic engagement of the arts in terms of social and cultural development of urbanity. Individual Contributions will be followed by a discussion and a public Q&A.
Curators and critics of Join the Conversation – feat. Alenka Gregorič, Rado Ištok, Václav Janoščík, Alina Kolar, Dalia Maïna, Pierre-Alexandre Mateos, Gabi Ngcobo, María Inés Plaza Lazo, Penny Rafferty, Hajnalka Somogyi, Chloe Stead, Charles Teyssou, Marion Vasseur (a group of international emerging curators and critics invited to Vienna for three days of research)
Moderation: Franziska Sophie Wildförster (Curator of ZONE1 / co-founder of Kevin Space, Vienna)

With the kind support of the Vienna Business Agency
Friday, 3 September, 5:00 pm
CONTEMPORARY ART IN THE WORD
Reflections on writing about the visual arts today.
Russian Art Focus Prize award ceremony and public talk with Hans Ulrich Obrist (online).
Russian Art Focus Prize is a new international award in the field of journalism about contemporary Russian art established by the monthly online magazine Russian Art Focus.
The first winners in two categories – "Publication on contemporary Russian art" and "Research paper on contemporary Russian art" – will be announced and awarded by the Prize founders Dmitry Aksenov and Inna Bazhenova.
The public talk "Contemporary Art in the Word. Reflections on writing about the visual arts today" featuring members of the Prize Jury – Hans Ulrich Obrist, Artistic Director of the Serpentine Galleries in London, (joining online), Anna Somers Cocks (The Art Newspaper), Nicolas Iljine (advisor to the State Hermitage Museum), Ekaterina Chuchalina (V-A-C Foundation) and Russian Art Focus editor-in-chief Jo Vickery – will be part of the ceremony.
The award ceremony is supported by the blockchain platform The Art Exchange
---
Saturday, 4 September, 1:00 pm
"NFT – THE FUTURE OF ART?"
Talk in cooperation with THE MINT
Augmented and virtual realities are inextricably linked to everyday reality, making NFT an integral part of the art trade since 2014.
As the world moves to an ever-increasing digital future what will art look like, and how will it affect culture moving forward?
"NFTs: The Future of Art?" delves into how non-fungible tokens are revolutionizing art and how artists can use this new technology as a medium – exploring how futuristic approaches of our time might impact the coming decades in technology, society, culture, art, and the marketplace.
Benoit Pagotto, Co-founder RTFKT and Partner and Curator in Chief at THE MINT
Edward Cawley, KnownOrigin.io, Artist Relations
MGXS – Fernando Magalhaes, Artist
WEBB, Artist & Founder of CRYPTOWEEBS
Rahilla Zafar, Executive Producer, MINTED (joining online)
Moderated by James Joseph, Founder and Editor-in-Chief of CYBR Magazine, Partner and Editorial Director at THE MINT
MISSED THE TALK? STREAM IT ONLINE HERE
Saturday, 4 September, 3:00 pm
DIGITAL CITIZENSHIP AND CREATIVITY
This panel will discuss the massive role of the media in the formation of individuality and its influence on civic consciousness and will try to elaborate on the potentialities of creative, active, and productive approaches in the realms of the digital and the social.
Mark Coeckelbergh, Professor of the Philosophy of Media and Technology, University of Vienna

Gerfried Stocker, Artistic Director of Ars-Electronica, Linz

Olga Tykhonova, Head of Research & Development, Museum Booster, Vienna
Moderation: Boris Ondreička (Artistic Director of viennacontemporary)

viennacontemporary lounge @ Xpedit | Wiesingerstraße 6, 1010 Vienna
The number of participants is limited to 50 people.