Panel Discussions in the framework of VCT STATEMENT 2023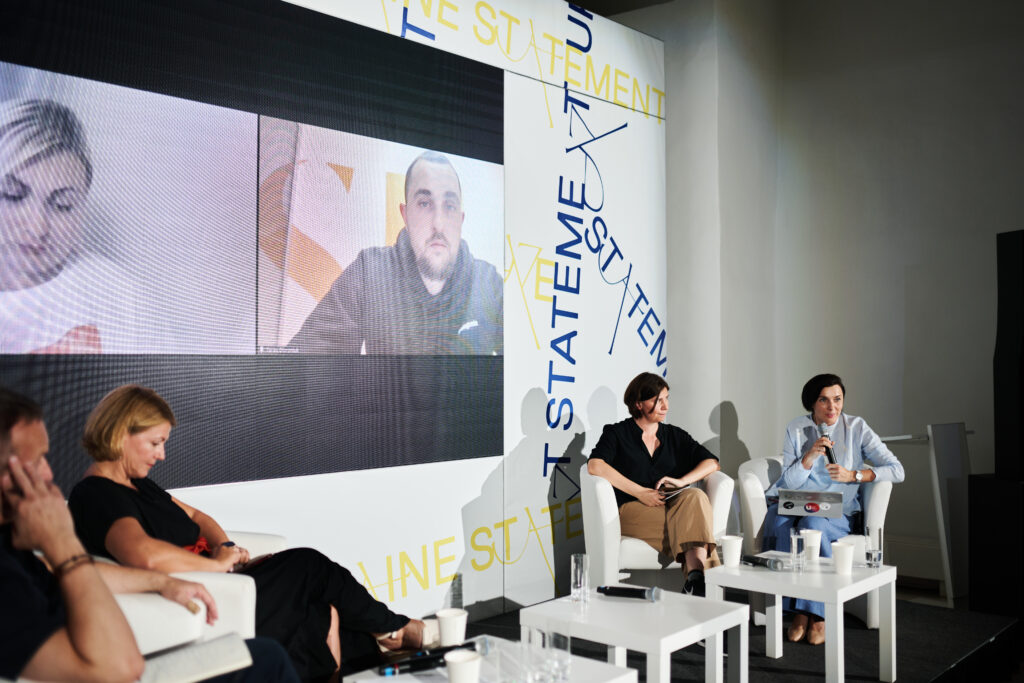 Today, Europe is home to millions of migrants – hailing from Africa, the Middle East, the Balkans, and more recently, Ukraine and Russia. However, how can one make their voice heard in a country that doesn't quite feel like their own? And is it possible to truly belong if one cannot participate in the political process? Could the lack of political rights be a driving force behind the division within our communities? Perhaps culture could serve as the bonding agent to mend these divides?
To address these profound questions, a panel discussion and a special exhibition opening will take place at "das weisse haus" on Wednesday, 6th September 2023, the day before the opening of viennacontemporary, setting the stage for a meaningful and engaging fair weekend.
---
PANEL DISCUSSIONS on Political Homelessness and Contemporary Citizenship
Wednesday, 6 September 2023
The Atrium at the Hotel Almanac Vienna,
Parkring 14/16, 1010 Vienna
Admission: 3:30 pm
---
Panel 1: Citizenship and Belonging, 4:00-5:30 pm
The European project is founded on shared values and the notion of active citizenship. But how can a community of shared values emerge when a significant portion of its members feel estranged, excluded, and voiceless? In today's Europe, there are two types of citizens: those who work, pay taxes, and have the right to choose their governance, and those who have the right to work and pay taxes but lack political representation in the country where they reside (often casting votes in their native countries where they don't live or pay taxes).
Austria, for instance, has 17.1% of its population comprised of non-Austrian citizens who lack the right to political representation. In Vienna, this proportion reaches one-third of the residents. This situation is reflective of many other European Union countries. Is it just to share prosperity without sharing power? Do we need to reimagine our political community? Can artistic expressions help us comprehend the human condition caught in the dichotomy of belonging and not belonging?
Participants: 
R.C. Baker, Artist and Senior Editor at the Village Voice, New York
Luiza Bialasiewicz, Political geographer and Professor of European Governance in the Department of European Studies at the University of Amsterdam
Niccolo Milanese, Founding Director of European Alternatives
Oliver Ressler, Austrian-born artist, activist, and filmmaker
Moderated by Dessy Gavrilova, Vienna-based Bulgarian cultural entrepreneur and curator, founding chair of the European Network of House for Debate "Time to Talk"
---
Keynote Speech by Alma Zadić (Federal Minister of Justice of the Republic of Austria), 5:30 – 6:00 pm
---
Panel 2: Inclusive Europe, 6:00-7:30 pm
Since the Maidan revolution in 2013, a civil uprising supporting Ukraine's European perspective, Ukraine has shown remarkable enthusiasm for the European Union. Also Russia's invasion has strengthened the resolve of its people to uphold democracy and freedom as the bedrock of Ukraine's future. As millions of Ukrainians sought refuge in the countries of the European Union, Europe demonstrated unprecedented unity in supporting Ukraine and opposing the aggressor. In June 2022, Ukraine and Moldova were granted candidate status for EU membership, and Georgia received an invitation to join.
Considering this context, what would the EU integration of Ukraine, Moldova, and Georgia entail? How long might it take? Can politicians and societies draw lessons from the extensive history of EU integration in the Western Balkans? What challenges arise from the outmigration for donor societies and recipient countries?
Participants: 
Veronica Anghel, Political scientist, and Lecturer at Johns Hopkins University SAIS Europe
Kristof Bender, Deputy Chairman of the European Stability Initiative
Kateryna Mishchenko, Writer, publisher, and translator from Kyiv
Martin Selmayr, Head of Representation of the European Commission in Austria
Moderated by Ivan Vejvoda, Permanent Fellow at IWM, Head of Europe's Futures – Ideas for Action
---
The panel discussions are followed by the opening of the exhibition "Not Either Or, But And", curated by Laura Amann, at das weisse haus, Hegelgasse 14, 1010 Vienna.