First Timers
viennacontemporary 2023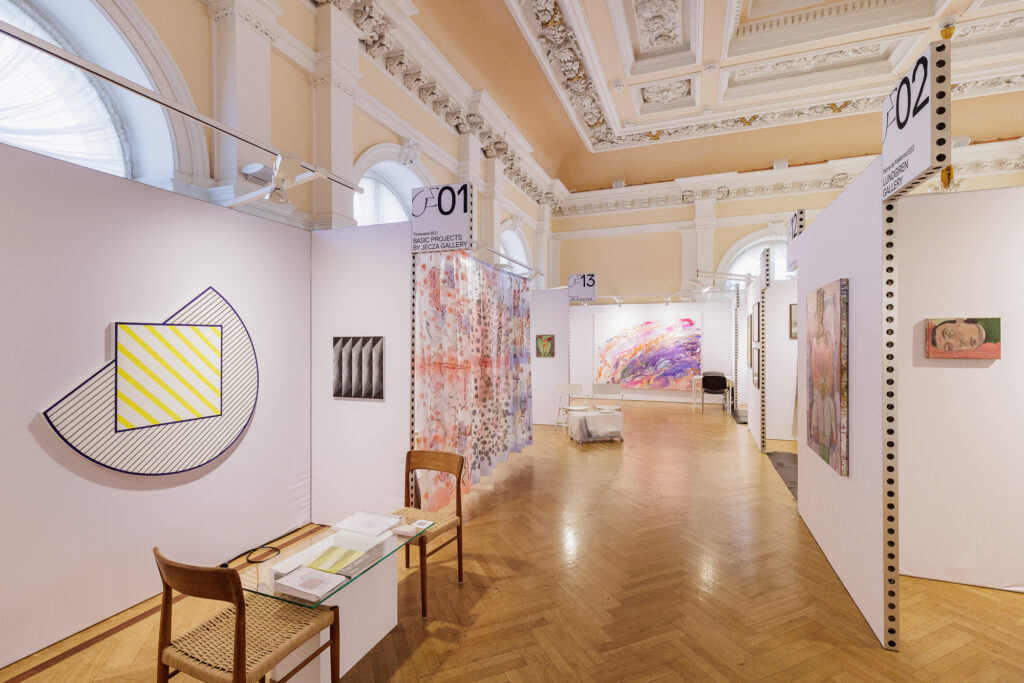 When roaming the halls of Kursalon this year, visitors of viennacontemporary will discover a few new faces: 15 galleries from all over Europe, united by a shared commitment to nurturing emerging contemporary art, will participate at Austria's leading art fair for the first time this September. 
We extend a warm welcome to the galleries making their debut – get to know them already here!
---
Founded in 2022 ALBA Gallery is representing its thematically intrinsic program by bringing exceptional exhibitions to life, interconnected by their transdisciplinary approach. Driven by a keen interest in the wide-ranged conditions of human identity, ALBA's program explores this spectrum in all its beauty and cruelty. Being attracted by the aesthetics of both the immensely atrocious as well as the overwhelmingly beautiful, we all as human beings deal with universal issues, which everyone can find a part of themselves in. What makes us human? What is real/life? Where do we position ourselves within these concepts, what motivates our urge to then escaping from them and where do we anticipate to find ourselves once this process is successful? The undeniable disparity between what we – as a society – commonly agree upon as real life and our individually received reality – aligned to the purpose of prevarication – remains uncanny and self-destructive behavioral patterns reflect on the paradigms of contemporary times and emotional mechanisms, as seductive illusions consume us with heart and soul.
ALBA embraces those identity fomenting directions emerging from plurality, proprioceptively renegotiating the fragility of both the physical and the virtual self and its realities.
---
Anita Beckers
Frankfurt am Main, Germany
Established in 1995 in Darmstadt, the gallery space moved to Frankfurt am Main in 1998. From the beginning, the emphasis has been on promoting young artists. In particular, the gallery has worked for the promotion of video and new media art by enabling artists to show their work in the necessary settings, as well as having supported publications and productions. Gallery artists have also been invited to take part in the exhibitions of important, international museums, such as (selection) MoMA, New York; SF MoMA, San Francisco; Whitney Museum, New York; Serpentine Gallery, London; ZKM Karlsruhe; Ludwig Museum, Köln; international festivals and biennials. The following institutions have collected works of the gallery artists: MMK Frankfurt; Pinakothek der Moderne, Munich; Kunsthalle Bremen; Kunsthaus Zürich; MUSAC, Leon/Spanien; Kunstmuseum Stuttgart; Stiftung Wilhelm Lehmbruck Museum, Duisburg; Goetz Collection, Munich; Heather & Tony Podesta Collection, Washington; Guggenheim, New York; MONA, Hobart/Australia; CB Collection, Tokyo; etc.
After 20 years of activity, it is the aim of the gallery to contrast historical positions with emerging artists, particularly in photography and video. Today the emphasis is on the dialogue of these young artists with established artists. In the Fall of 2015, the new exhibition space was opened in Frankfurt's inner city at Braubachstraße 9.
---
FOG Gallery serves as a platform for a remarkable community of artists in the field of photography and new media. The focus of the gallery is centered on the promotion, valuation, and sale of contemporary artworks by Eastern European artists on the international market. As part of this mission, it actively creates opportunities for artists' creative development and exchange of ideas. As well as staging at least four exhibitions per year, regular curatorial projects, and the publication of exhibition catalogs, the gallery aims to raise the profiles of innovative talents from this region in the broader international context. FOG Gallery represents established artists in the field of photography and new media and offers expert advice to ensure a wise investment in photography.
---
The founders of Galerija Manuš, which opened in 2022 in the eponymous district within the historical core of Split, are also owners of the Kula Gallery, a non-profit cultural institution founded in 1994, which has since staged over 200 international exhibitions and produced as many publications featuring contemporary artists. The latter institution is also the first in Croatia to have organized exhibitions of some of the world's most prominent artists such as Tony Cragg, Richard Deacon, Matt Mullican, Heimo Zobernig, John Bock, Carlos Garaicoa, Peter Halley, Juliao Sarmento, Herbert Brandl, and others. As an open, experimental exhibition program and project, the Manuš Gallery emphasizes a lively interaction with the city, relying on potentials rooted in the existing local artistic practice and an intense dialogue with the international scene creating an inspiring environment for an audience that appreciates art. With its program, Galerija Manuš is open to all visual arts media and practices, including artistic, curatorial, and programmatic research.
From the outset, the objective of the gallery has been, on the one hand, to support young, but also older generations of Croatian artists and to enhance their visibility on the international art scene, while, on the other hand, the focus is on introducing recent international art events and achievements to the wider audience in Split and Croatia.
---
GALERIST
Istanbul, Turkey
Galerist, founded in 2001, is a pioneering contemporary art gallery in Turkey. Since its early years, the gallery has established a reputation for nurturing the careers of distinguished Turkish contemporary artists and introducing their work to a global audience. The gallery continues to pursue a creative direction that balances the emerging with the established and the estates, national and international artists – with the constant aim of presenting and supporting outstanding contemporary visual art practices. Galerist has been publishing the bimonthly bilingual art magazine Art Unlimited since 2006; endorsing and promoting Turkish contemporary art. Galerist continues its tradition of publishing innovative books and publications that include Elif Uras Monograph (2018), Yusuf Sevinçli: Oculus (2018), Semiha Berksoy Catalogue Raisonné (2017), Nil Yalter Monograph (2013), Taner Ceylan: 1997-2009 (2011), Haluk Akakçe: Reincarnation (2009) and Leyla Gediz Monograph (2008).
Galerist is located in a historical building that dates back to the 18th century, providing 250m2 of exhibition space.
---
Giorgio Persano opened his first gallery, Multipli, in 1970. While he became interested in American pop graphics, he began producing Multiples works by Italian artists such as Michelangelo Pistoletto, Gilberto Zorio, Alighiero Boetti, Pier Paolo Calzolari, Giovanni Anselmo, Salvo, Giuseppe Penone, and Giulio Paolini. From 1975, some of them began to use the gallery space as a workshop, making installations and experimenting with new creative processes. Since then, Persano has been curating the projects and productions of the works, establishing a close collaboration with his artists. Over the years, he has worked with Michelangelo Pistoletto, Mario Merz, Pier Paolo Calzolari, Jannis Kounellis, Nicola De Maria, Emilio Prini, Gilberto Zorio, Joseph Kosuth, Sol LeWitt, Max Neuhaus, Lawrence Weiner, Franz West, Jan Dibbets, Bernar Venet, Pedro Cabrita Reis, and Julião Sarmento, Susana Solano, Costas Varotsos, Avery Preesman, Susan Norrie, Susy Gómez, Lida Abdul, Alfredo Romano, Michele Zaza, Luisa Rabbia, Herbert Brandl, Per Barclay, Marco Bagnoli, Marco Gastini, Alessandro Sciaraffa, Lina Fucà, Michael Biberstein, Zena el Khalil, Paolo Cirio, Nunzio.
---
The program of the gallery, founded in 2008 in Frankfurt am Main, has an international orientation and is not limited by media. The gallery represents international artists, each with their own unique profile. The gallery owner is particularly interested in artistic positions that show affinities to secondary disciplines of the classical arts – such as design, film, or sound art – or even originate from these areas. The commitment to the medium of film found expression in 2011 in a collaboration with the International Short Film Festival Oberhausen. At that time he already showed Laure Prouvost and Roee Rosen (together with two German film artists). The gallery has quite an extensive connection to Austria: In 2006, Kai Middendorff published a book on Arnulf Rainer's first non-painted, experimental photographs at Hatje Cantz Verlag. The text was by Robert Fleck, who later showed the photographs at the Deichtorhallen in Hamburg. In addition to Bruno Gironcoli, the gallery regularly shows three other Austrian artists: as the only gallery to date, Bruno's widow, Christine Gironcoli, the artist Gerald Domenig (*1953), who received the Austrian Art Prize in the category of Artistic Photography in 2021 and lives in Frankfurt, and the Kubelka student Bernhard Schreiner (*1970), whose collaborative works with Thomas Bayrle were shown at Documenta 13.
---
Kogo
Tartu, Estonia
Kogo Gallery is a contemporary art gallery in Tartu, Estonia, founded in 2018. The gallery focuses on the younger generation of artists, currently representing eight artists from the Baltic countries. Kogo is committed to encouraging dialogue on important issues of today by running an extensive public program alongside the exhibitions. The gallery's recent and upcoming presence in international art fairs includes Liste Art Fair Basel (2021, 2022, 2023), Art Brussels (2023), viennacontemporary (2023), Around Video Art Fair (2022), and others.
---
Krupa
Wroclaw, Poland
Krupa Gallery focuses on highlighting the current condition of the contemporary young art scene in Poland and Eastern Europe by representing diverse groups of emerging artists with an emphasis on socially engaged themes. It seeks to be an international platform actively supporting collaboration between artists and curators.
The gallery aims to develop its mission abroad, so it organizes exhibitions and promotes artists by participating in international exhibitions and art fairs, as well as by building networks within the international art world.
Since 2019, Krupa Gallery is expanding its curatorial explorations with exhibitions in Wroclaw, Poland, and expanding its program by initiating pop-up projects in various locations, within partnerships with other art platforms in Warsaw.
---
Established in 2014, the main purpose of MLZ Art Dep is to raise the viewers' awareness of topical issues through interaction with contemporary art. Years of structural changes have determined an intervention in spheres of exploration that are rather different from those considered in the recent past. Today, art, through painting, photography, video, and sculpture, deals with a number of key issues relevant to the present time. MLZ Art Dep explores the paths traced by contemporary painting, photography, video, and sculpture, giving ample space to artists, both emerging and established, whose scope may provide cues for insightful reflection and unconventional information. Thanks to its pivotal work on proposing contemporary photography and critical imaged-based practices, the gallery has taken part in renowned international venues, including Paris Photo (Paris, FR), Artissima (Torino, IT), Unseen (Amsterdam, NL), Artefiera (Bologna, IT).
---
The gallery program began in 2020 in a dilapidated Piano nobile in Belgrade. Initially an off-space (Manifesto Spazio Non Canonico), the place soon became a gallery – non canonico. The original concept was based on gradual architectural interventions and metamorphosis of space, in order to elaborate aesthetic dilemmas of both artists and gallery founders. From its inception, the gallery's aim has remained consistent: to promote great and innovative artists in all media.
---
Pedro Cera is a leading Portuguese gallery focusing on contemporary art. With its intergenerational roster of artists, the vibrant gallery program thematically resonates with the current panorama of contemporary art and some of its most pressing issues while bearing in mind the importance of universal themes that span beyond cultural or geographical specifics. For this year's edition of viennacontemporary, Pedro Cera will introduce a selection of works by Anna Hulačová, Ana Manso, Oliver Laric, and Paloma Varga  Weisz. Spanning from a diverse range of approaches to contemporary sculpture to abstract painting, selected works address the politics of our contemporary condition, touching upon subjects related to labor, technology, environmenta lism, and the growing virtualization of life. In 2023 the gallery celebrates its 25th anniversary.
---
Sharp Projects was founded in 2021 by independent curator, Ilethia Sharp from the United States. Sharp Projects is a contemporary art gallery and curatorial project space with an international focus.
---
Steve Turner was established in Los Angeles in 2008 with a mission to present a diverse array of artists who are conceptually rigorous, innovative and experimental. The majority of the gallery's programming showcases artists from historically under-represented groups including BIPOC, LGBTQ+ and women. The gallery is well known as an incubator of fresh talent and often is the first American gallery to present a promising international artist. By actively participating in art fairs in North and South America, Europe and Asia, the gallery nurtures the development of young artists by introducing their work far from where they live. To date, the gallery has exhibited in art fairs in 27 different cities.
---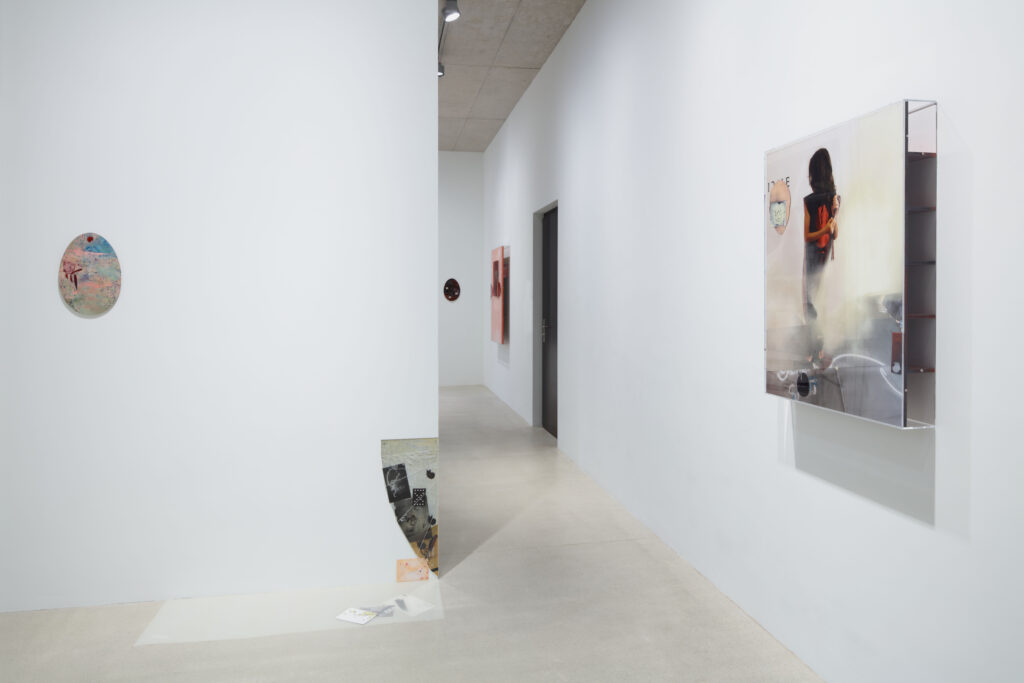 KERNING, an exhibition by Niels Trannois, at Windhager von Kaenel, Zurich, Switzerland, 2023.
Windhager von Kaenel is a contemporary art gallery based in Switzerland and was founded by Fabian Windhager in 2020. The aim of the gallery is to present an international program of promising young artists as well as overlooked artists from an older generation. The gallery looks forward to welcoming visitors at their booth Z4 with a solo presentation by Swiss-born and Vienna-based artist Julia Znoj.