ZONE1 2017
"Featuring ten positions of artists below 40, who were born or educated in Austria, this year's ZONE1 selection brings together precise solo showcases to form a multilayered presentation of contemporary artworks. Ranging from self-optimization, information, and data transfer on the internet, matter as information storage for human civilization, over expanding the notion of painting and strategies of its spatial experience, to the basic conditions of artistic creation and the political and sociological dimensions of art, the selected artists' projects and works focus on a wide array of different media and topics." Marlies Wirth, curator ZONE1.
Artist Peter Jellitsch (Galerie Clemens Gunzer) takes the history of the internet as the starting point for his new, site-specific overall installation. Inspired by Steven Brand's "Whole Earth Catalog" (1968), which Steve Jobs called the precursor of search engines like Google, Jellitsch examines the representability of information transfer on the internet in drawings of different formats. With this act of "recording" invisible data in drawing, the artists comments on the status quo of the connected surveillance society in the 21st century and the importance of information as a resource and capital.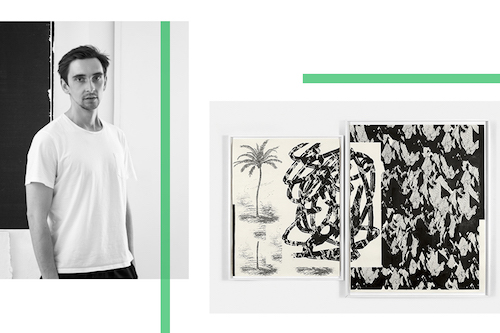 Concept- and media artists Maria Anwander and Ruben Aubrecht (Galerie Lisi Hämmerle), who live in Berlin and were born in Bregenz, join forces again for the presentation at ZONE1 and develop a new common project. Their work critically questions the "operating system of art" and the structural conditions of art production, of the art market, and the institutions behind it.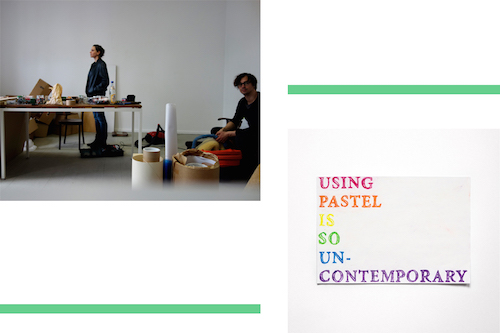 For her presentation at ZONE1, artist Sarah Pichlkostner (Galerie Hubert Winter) continues to work on her fictitious characters "KUY and KAY", which were last shown at Galerie Hubert Winter and which she developed in the course of her artistic engagement with self-optimization apps. Emerging like their "echo" from the past, a third, new character will join them, who, by reflecting on the thought of optimization, arrives at dealing with the emotion of jealousy. The conceptual figures are shaped by sculptural settings consisting of metal rods and lashing straps hovering in an ambivalent state of suspension.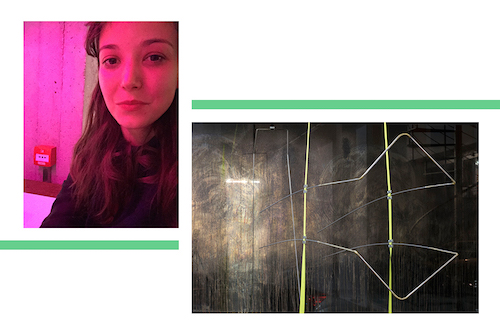 New works will also be presented by artist Flora Hauser (Galerie Meyer Kainer), born in 1992. Personal notebooks and texts provide the basis and anchor point of her fine compositions – drawn with colored pencils on oversized canvases – in which she executes informal lines, dots, and subtle image areas in minute detail. Contrary to her texts, which verbalize specific content and efforts of orderliness, the artist's drawing offers a space in which she can "escape into wordlessness". The only words attached to the images are their titles, which enable a contingent narrative moment.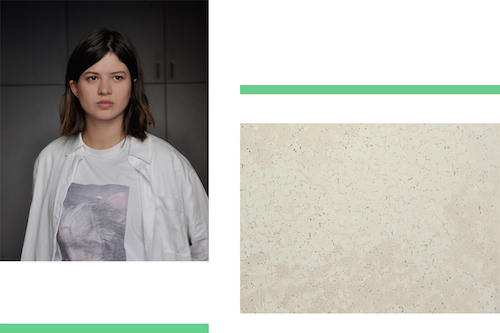 Berlin-based Austrian artist Florian Schmidt (Philipp von Rosen Galerie) intends to present works from his series "Proximity" at viennacontemporary. The two-dimensional cardboard-compositions are turned into spatial objects through the use of a wooden construction. Schmidt thereby examines the relationship of (image-)space, material, and color, resulting in the playful interaction between two- and three-dimensionality that is typical for his work. The title "Proximity" is an allusion to the interdependency and encounter of the color fields.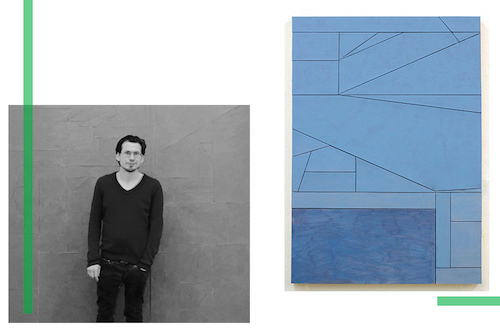 Based in her interest in print making, artist Theresa Eipeldauer (KROBATH) employs different techniques, like screen print on canvas or foil, and, through shifting and superimposing, develops complex abstract figures that create the impression of moving surfaces. In new works, Eipeldauer questions the emergence of meaning and aesthetic appeal caused by the formation of the individual picture elements; strict, graphically multiplied arrangements of image and space indicate a transition from visual to spatial dimensions.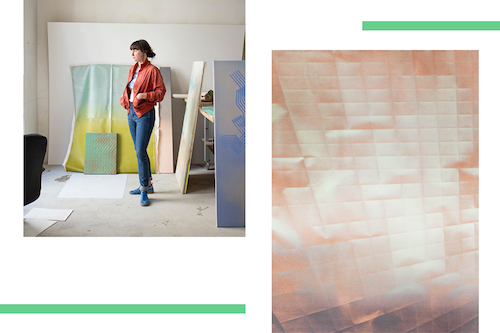 Thilo Jenssen (KOENIG2) concentrates on fundamental questions concerning painting and its extension. His spatial displays, whose set-up seems to carry the canvases like crutches and interlock them with their surroundings, point out the ambivalence between support and confinement. For viennacontemporary, the artist develops new works, in which he will also address the interplay of statics and perspective.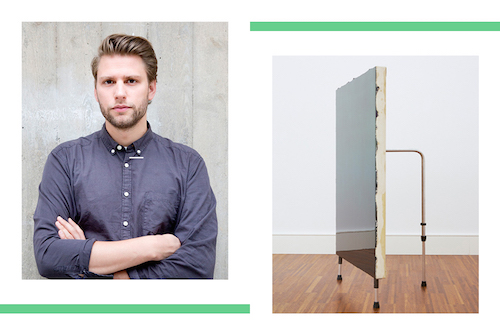 Titled "On Painting", a new, expansive installation by Kay Walkowiak (Zeller van Almsick) puts the power structure of desire and aversion between subject and artistic object up for discussion and negotiation. Primary materials that art history left attached with traditional meaning, like canvas and color, constitute the elementary components of his sculptural objects, which, in the form of placed displays, open up a choreography of references on the canon of forms of 20th-century painting.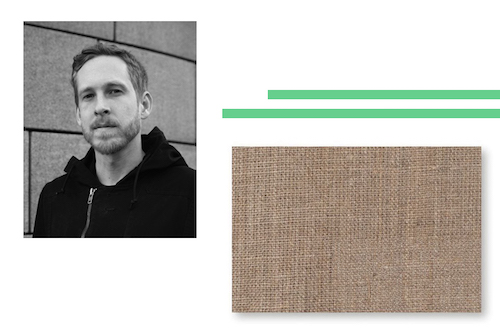 With PSM Gallery from Berlin joining viennacontemporary for the first time, Danish artist Christian Falsnaes, who has been nominated for this year's Future Generation Art Prize, returns to Vienna, where he graduated from the Academy of Fine Arts in 2011. In his works, Falsnaes examines the potential of social dynamics by involving his audience in performative live situations. During this interaction, Falsnaes simultaneously activates the individual's ability to act and makes them a part of a collective experience. For the fair's showcase, he is developing a new project, which builds on his former work "Opening". It examines the ever-changing power structures in the relationship between audience and artist that occur when Falsnaes – in reference to Yoko Ono's "Cut Piece" – invites visitors to cut his clothes from his body and pin them onto stretcher frames. The performance yields collages made out of the respective pieces of cloth – works that are not produced by the artist, but by his audience.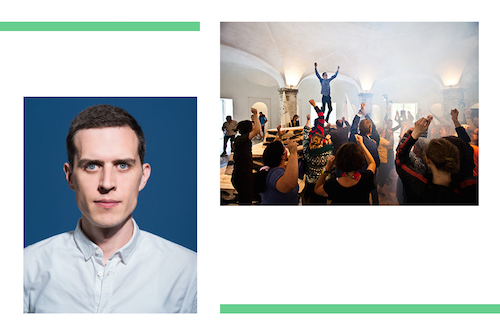 With a new, performative installation, media artist Samuel Schaab (unttld contemporary) builds on his previous work with inanimate matter as "storage for civilization". The new works, which were especially developed for ZONE1, are arranged in a procedural formation that is constituted by the elements of time and variability. Next to large-format, backlit frames of meteorites, a heavy stone is shifted around, its movements following the time pattern of a 60-minutes tape recording. The analog sound carrier's soundscape is only audible during short moments, in which the stone changes positions. Position markers, as used in theater and movie productions, record the stone's past locations and, towards the end of the fair, result in a "mapping of the unmovable", asserting its territory as a distillate of time.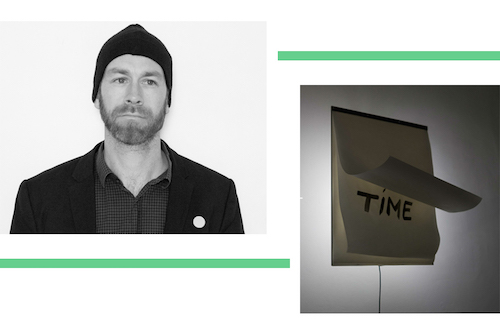 ZONE1 has established itself as acclaimed format for the presentation of young artists and this year too offers a series of innovative projects. Marlies Wirth, curator at the MAK – Austrian Museum for Applied Arts / Contemporary Art in Vienna – has selected the program and presents the entire range of young contemporary art production: photography, extended painting and sculpture up to installation and performance will be on show in individual sections at viennacontemporary.
ZONE1 – 2017
Peter Jellitsch | Galerie Clemens Gunzer
Maria Anwander & Ruben Aubrecht | Galerie Lisi Hämmerle
Thilo Jenssen | KOENIG2
Theresa Eipeldauer | KROBATH
Flora Hauser | Galerie Meyer Kainer
Christian Falsnaes | PSM
Florian Schmidt | Philipp von Rosen Galerie
Samuel Schaab | unttld contemporary
Sarah Pichlkostner | Galerie Hubert Winter
Kay Walkowiak | Zeller van Almsick
As in recent years, the Austrian Federal Chancellery is supporting the participation of young artists from Austria in ZONE1.