ZONE1
Curator: Cathrin Mayer
Kamilla BischofI Meyer Kainer I D11
Laura HinrichsmeyerI Gallery AAAA I D13
Richard Nikl I Shore I D07
Rosa Rendl I Georg Kargl Fine Arts I D09
Christophe de Rohan ChabotI E X I L E I D14
Anna SchachingerI Sophie Tappeiner I D15
Laurence SturlaI GIANNI MANHATTAN I D10
Marianne VlaschitsI Galerie Sophia Vonier I D12
With the kind support of the Federal Ministry for Arts, Culture, the Civil Service and Sport.
The exhibition format ZONE1 exclusively features artists under 40, who live, work or have been educated in Austria. Since 2015, ZONE1 is one of the highlights of the fair and highly valued by art experts and visitors.
"The main priority of my curatorial concept for ZONE1 was to invite artists and galleries who represent a new generation of the Austrian art scene. Some young artists who studied here went abroad for a period of time, others come here because of the nice opportunities to study. On the other hand, young entrepreneurs ventured into opening new galleries with compelling programs, other galleries resettled in Austria or grew out of the diverse free scene. These reciprocities create the variegated communities that characterize Austria's contemporary art scene. ZONE1 is an attempt – by no means claiming to be exhaustive – at presenting these communities."
Cathrin Meyer
Cathrin Mayer worked as a curator at the KW Institute for Contemporary Art in Berlin. In the recent past, she curated large-scale solo exhibitions. In addition to her work as a curator, she works on project-based exhibitions and is a regular contributor to publications and magazines. Since 2020, Mayer is the co-director of the project space FRAGILE in Berlin.
---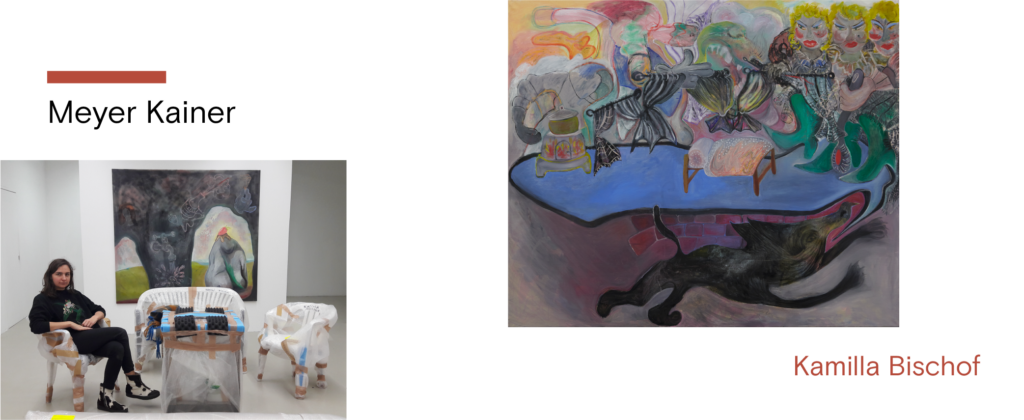 Kamilla Bischof I Meyer Kainer I D11
Bath tubs, pacifiers, wrenches, inflatable pool-animals, figures on horseback or in heavy boots, a freshly made bed, served like a chocolate on a speech bubble, a weary angel sitting on a fire hydrant, declared to be a waiting ghost, animals both with and without towering hair are among the things forming highly charged sceneries on mostly large-scale canvases. Elements from cartoons and classical motifs alike are appropriated and combined with free forms. Themes arise – their constellations varying from one painting to the next – to repeatedly be illuminated anew and to have their symbolic content examined. At times – in addition to the canvases – arrangements of interior decoration are included in the exhibition context. Paintings might be combined with seating accommodations or sculptural items of furniture; for example, a cat-like rug complete with extended polished claws and panting tongue. Translucently painted-over sections and written text hint at ponderings suddenly emerging and permanently on the verge of abruptly being disrupted. Texts spanning a wide range of genres are produced alongside the paintings. Their protagonists include animals, Mother Nature, and personified faculties like intuition – a shrill figure who sticks her chewing gums onto fresh oil paintings, lies idly on the studio floor, flips through wedding magazines, is just plainly vulgar, and at all times ready to start an argument.
---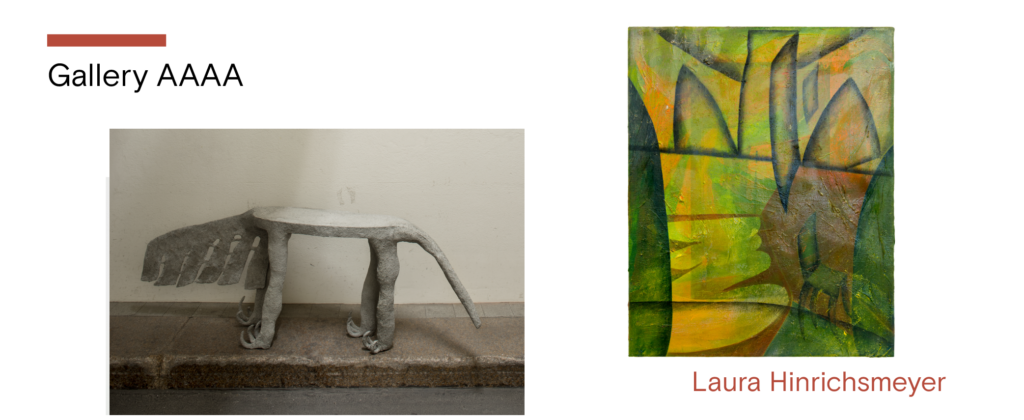 Laura Hinrichsmeyer I Gallery AAAA I D13
Laura Hinrichsmeyer's works are situated in a field encompassing painting, sculptural elements and text. The paintings in her most recent body of work seem to act as a formation of female soldiers. Co-equally hanging at the same height, they are very varied in their articulations. This "gang" of paintings exudes a hierarchy that confronts the viewer and plays a major role in the ensemble. Sculptures made from paper or debris seem to suggest closer inspection; yet they readily refuse accessibility. At times accompanied by texts used as preludes or sub-texts, her mise-en-scènes are moved in specific directions. Hinrichsmeyer terms her practice "holistic". Laura Hinrichsmeyer was born in Germany, lives and works in Vienna. She studied scenography in Berlin and language arts at the University of Applied Arts in Vienna and received her diploma at the Academy of Fine Arts Vienna in 2019 (professor Julian Göthe).
---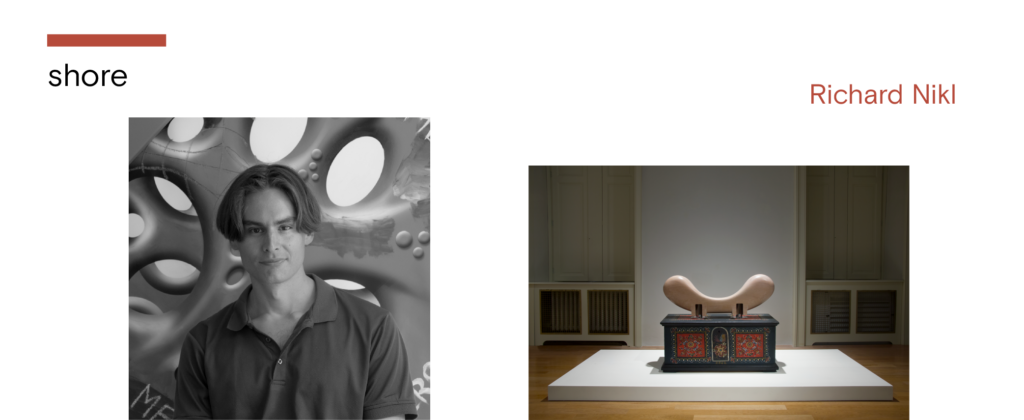 Richard Nikl I Shore I D07
Richard Nikl (b. 1987, CZ) studied at the Academy of Fine Arts Vienna and at Städelschule Frankfurt where he graduated in 2017. For his solo presentation at viennacontemporary, Nikl follows his search for novel forms along the lines of parametricism, particularly trying to carry out a geometry of the formless. His canvas works, which evolved from his earlier sculptural work, try to transfer a spatial viewing experience into an orthographic one in which the viewpoint seemingly does not matter. Recent solo and group exhibitions include shows at the Palais des Beaux-Arts Bozar in Brussels, Museum für Moderne Kunst (MMK) in Frankfurt am Main, Czech Center in New York, National Gallery in Prague, Shore Gallery in Vienna, Lovaas Gallery in Munich and KIM Contemporary Art Center in Riga. Nikl was nominated for Czech's most prestigious contemporary art award, the Jindrich Chalupecky Prize.
---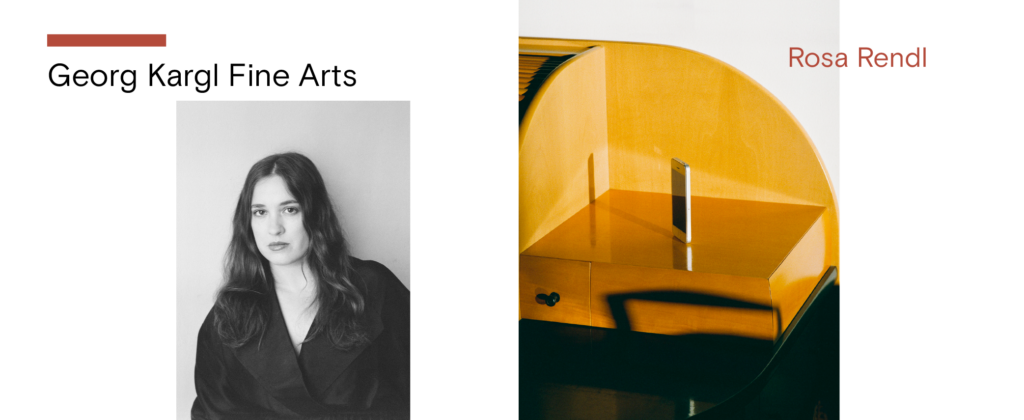 Rosa Rendl I Georg Kargl Fine Arts I D09
Georg Kargl Fine Arts is presenting a new series of works by Rosa Rendl in Zone1. Rosa Rendl is concerned with the threshold between the private and the public. The personal sphere, seen as part of a larger social context, and the inseparable connection of all its components, comparable to variables in a system, are a recurrent topic in her works. Rendl's photographies, playfully examining the existence of objects and their (re)presentation, can be read as a concession to Roland Barthes' concept of "this-has-been" in multiple ways. Sealed behind acrylic glass, this also applies to the notion of capturing emotions – a protective shell, simultaneously referencing the dissolving borders between different genres of art and value systems.
---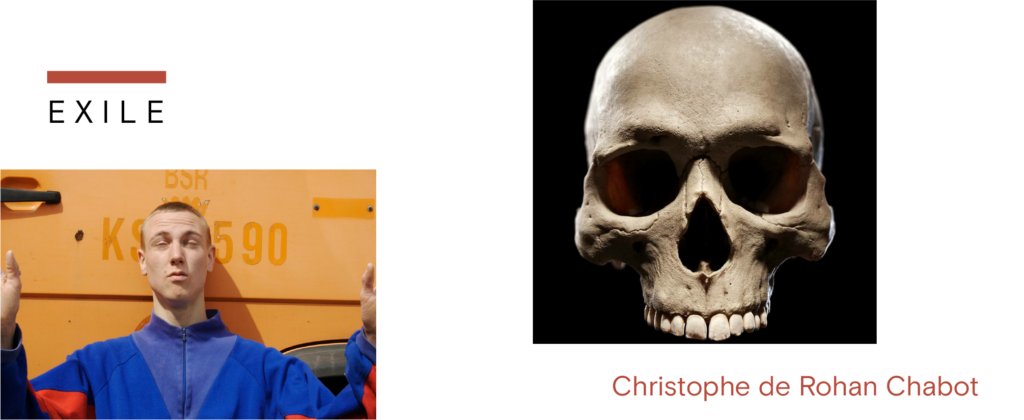 Christophe de Rohan Chabot I E X I L E I D14
Christophe de Rohan Chabot, born 1986 in Paris, mines the infinite availability of the internet for images that suit a particular artistic notion, mood or intention the artist aims to transport in each of his works. This particular research procedure is simultaneously laborious as it is absurdist, being the only remaining creative practice our time wants to allow – equal to a historical painter selecting the one perfect brush to finish a masterpiece. The sourced imagery is later as meticulously printed as the raw data allows for. Precision and imperfection are fundamental to each pixel presented. The final unique artwork becomes an icon of its own immaterial source. For viennacontemporary, de Rohan Chabot created a specific installation based on three sourced images that functions as an equation reflecting on its own representational context as much as on the current state of the world in which we find ourselves.
---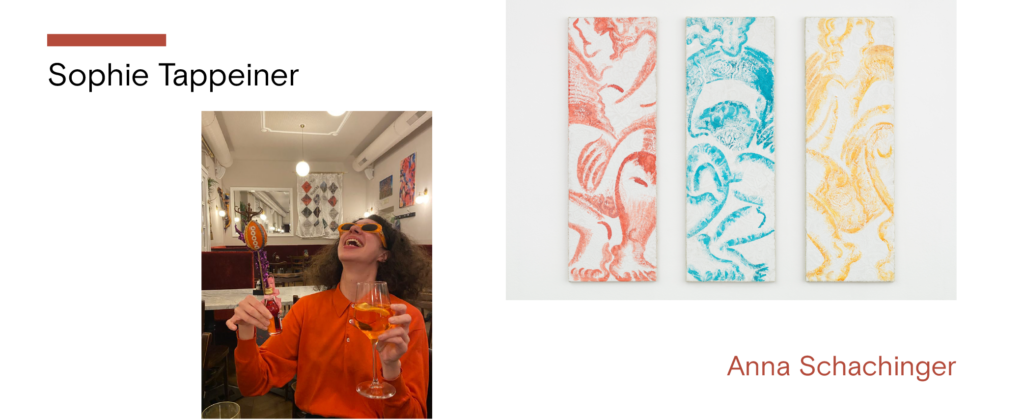 Anna Schachinger I Sophie Tappeiner I D15
Anna Schachinger (b. 1990) is a painter. To her, painting is an intricately intertwined process of balancing conceptual and intuitive impulses. Her work encompasses real and fantastical subject matter and represents a state of possibility. From a formal point of view, it often refuses to submit to traditional taxonomies of abstraction or figuration. The technique itself also varies; sometimes the result of concerted and delicate mark making, the work is, at other times, the result of what appears to have been a rather brutal process. Themes and motifs are revisited and reworked across bodies of work, creating layered strands of narrative. Anna's paintings are intriguing in their seeming disregard for conventional spatial hierarchy. Foreground and background merge and overlap, creating fascinating new potentials to read the compositions or to get lost in them.
---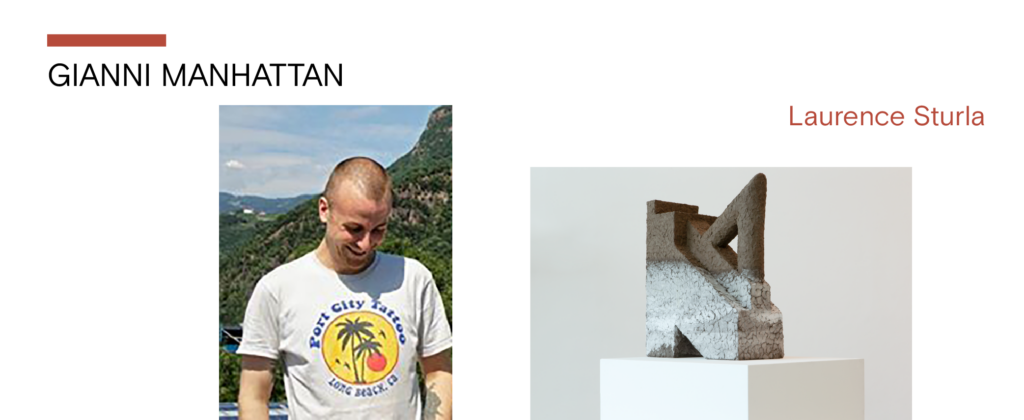 Laurence Sturla I GIANNI MANHATTAN I D10
Laurence Sturla (b. 1992; Swindon, UK; lives and works in Vienna) creates ceramic works that address how an understanding of the past and present is formed and questions how these two passages are interlinked. Leveling out the dialectics of form or function, Sturla's work nods simultaneously towards the ruins of industrialization and the domestic. His teapot come desolate factory works ponder how these two spheres seep into and violate each other.
---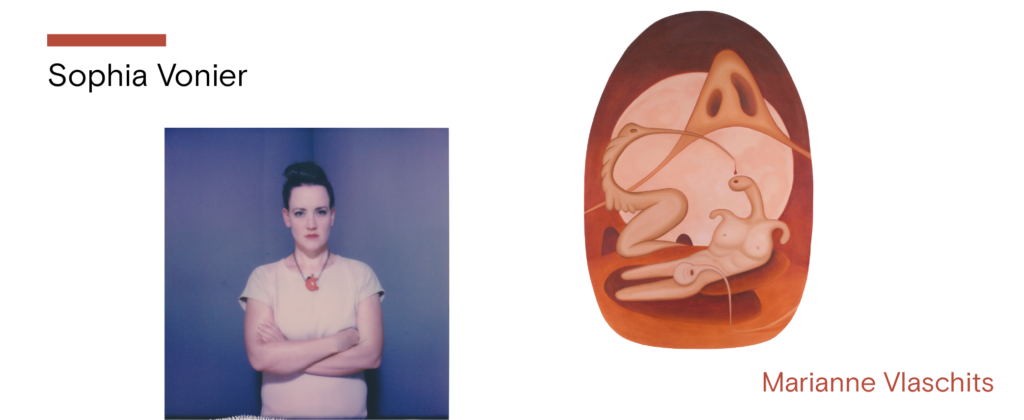 Marianne Vlaschits I Galerie Sophia Vonier I D12
Marianne Vlaschits (b. 1983 in Vienna) lives and works in Vienna. She studied at the Academy of Fine Arts in Vienna and at Slade School of Art in London. She works with painting and installations functioning as spatial extensions of her paintings. Her works investigate outer-space as a place of longing for humanity and   as a projection surface for visions of the future. Currently, Vlaschits is painting with oil on self-built irregularly shaped elliptical canvases reminding the viewer of thought bubbles, eggs or meteorites. In these works, the artist intertwines surrealist aesthetics with topics of progressive science fiction and contemporary painting.