Focus 2015: Bulgaria
After the focus countries Azerbaijan, Georgia, Kazakhstan, Ukraine and Belarus (2012), Georgia and Poland (2013) and Azerbaijan (2014), viennacontemporary is taking a look at Bulgaria in 2015 with Focus Bulgaria.
Upon the initiative of Vesselina Sarieva and Katrin Sarieva, founders of the Open Arts Foundation and Sariev Contemporary, Plovdiv in cooperation with Iara Boubnova, curator, art critic, founding member and director of the Institute of Contemporary Art-Sofia and Vessela Nozharova, curator of the Art Affairs and Documents Foundation, this year, Focus Bulgaria will present a representative selection of contemporary Bulgarian art from private collections and major Bulgarian galleries.
The project is kindly supported by Gaudenz B. Ruf, Zurich/Sofia, the Ministry of Culture of the Republic of Bulgaria, the National Culture Fund, Bulgaria, the EVN Collection, Thyssen-Bornemisza Art Contemporary and is organized in partnership with the BKI Haus Wittgenstein in Vienna and Ogilvy Group Bulgaria.
Curators of the Focus Bulgaria exhibition Variofocus – ARTISTS:
Vessela Nozharova, Iara Boubnova
Curator talks program Focus Bulgaria: Dessislava Dimova
Curator publication Focus Bulgaria: Boris Kostadinov
Participating artists:
Adriana Czernin, Alexander Valchev, Aleksandra Chaushova, Alla Georgieva, Anton Terziev, Boryana Rossa, Borjana Ventzislavova, Daniela Kostova, Destructive Creation, Emil Mirazchiev, Dimitar Solakov, Georgi Dimitrov, George Ruzhev, Ivan Moudov, Ivan Kostolov, Ivo Bistrichki, Iv Toshain, Irina Georgieva, Iskra Blagoeva, Kalina Dimitrova, Kalin Serapionov, Kamen Stoyanov, Kiril Kuzmanov, Kiril Prashkov, Kosta Tonev, Krassimir Terziev, Lazar Lyutakov, Luchezar Boyadjiev, Lubri, Maximilian Pramatarov, Mariela Gemisheva, Monika Popova, Miryana Todorova, Nedko Solakov, Nestor Kovachev, Nina Kovacheva & Valentin Stefanoff, Nikolay Zanev, Oleg Mavromatti, Petja Dimitrova, Plamen Dejanoff, Pravdoliub Ivanov, Samuil Stoyanov, Sasho Stoitzov, Stanimir Genov, Stefan Nikolaev, Stela Vasileva, Valio Tchenkov, Vasilena Gankovska, Veronika Tzekova, Vikenti Komitski, Vitto Valentinov, Vladimir Mitrev, Voin de Voin, Yasen Zgurovski, Zara Alexandrova, Zoran Georgiev
Objects moving minds in space is a series of talks and conversations conceived and moderated by Dessislava Dimova as part of the presentation of Focus Bulgaria. (C16/C24)
The artist talks are centered on material objects, chosen by each artist. These objects become the beginnings of stories, methods of research, or simply ways to involve the public into a conversation.
A series of discussions that will take place around the "BG bar" of artist Nedko Solakov will continue the topics proposed by the curators Iara Boubnova and Vessela Nozharova with the exhibition VARIOFOCUS. "Economy", "identity" and "production" will be at the heart of a polemic about the conditions of contemporary art in Bulgaria. Together with a moderator and a provocateur, the participants in each discussion will try to identify important questions that we usually fail to address publicly.
In addition, the curators Iara Boubnova and Vessela Nozharova, as well as the editor of the special publication, Boris Kostadinov, will talk more about the context and the behind-the-scenes of the Focus Bulgaria presentation.
24 September (C16/C24)
12:00 pm: Lazar Lyutakov (artist talk)
1:00 pm: Discussion: "Economy. Artists and institutions." With Kamen Stoyanov, Lazar Lyutakov, Vikenti Komitski, Miryana Todorova. Provocateur: Natalia Тodorova
2:00 pm: Variofocus guided tour with the curators Iara Boubnova and Vessela Nozharova
25 September (C16/C24)
12:00 pm: Luchezar Boyadjiev  (artist talk)
1:00 pm: Discussion: "Identity. Conflicts and solidarity." With Borjana Ventzislavova, Luchezar Boyadjiev, Iskra Blagoeva, Vassilena Gankovska, Voin de Voin. Provocateur: Svetlana Kuyumdjieva
3:00 pm: Voin de Voin (performance)
26 September (C16/C24)
12:00 pm: Pravdoliub Ivanov (artist talk)
1:00 pm: Discussion: "Production. From craft to industry and vice versa." With Pravdoliub Ivanov, Stela Vasileva, Vitto Valentinov. Provocateur: Iara Boubnova
2:00 pm: Miryana Todorova (artist talk)
3:00 pm: Variofocus: presentation of the publication with the editor Boris Kostadinov
27 September (C16/C24)
12:00 pm: Kamen Stoyanov (artist talk)
1:00 pm: Vitto Valentinov (artist talk)
Variable in appearance, sometimes vaporous, sometimes as plastic paste is a conversation piece, which will present a semi-staged, semi-improvised discussion between some of the participants in Focus Bulgaria. Following the conversations that will take place during the previous days at Focus Bulgaria, and using them as a working process, this final talk will stage and dramatize various problems and conflicting positions related to contemporary Bulgarian art and culture.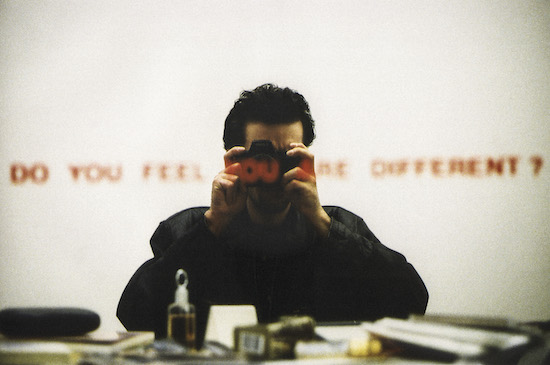 Kalin Serapionov, In Dialogue with Myself Reflection, 1997, Photography, C-print, 20 x 30 cm each, framed. Part of the project Do You Feel You Are Different?, 1996-1998. Courtesy of the artist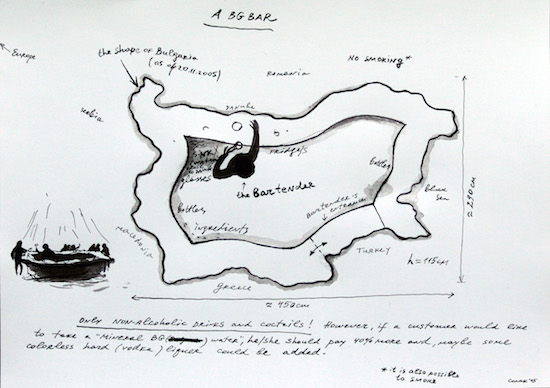 Nedko Solakov, Drawing for A BG Bar, 2005, black drawing and wash on paper, 21 x 29,7 cm, Courtesy of Thyssen-Bornemisza Art Contemporary (Vienna)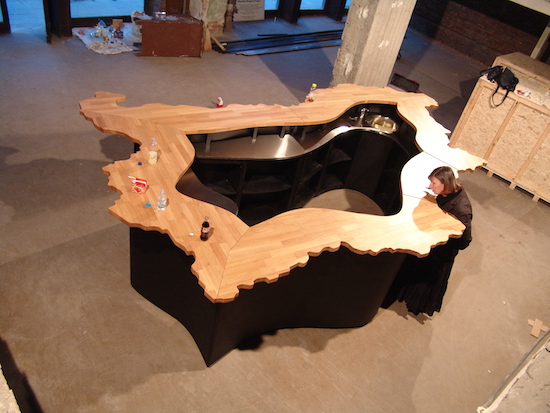 Nedko Solakov, A BG Bar, 2006, Metal, paint, oakwood (in the shape of Bulgaria), refrigitator, glasses, nonalcoholic beverages, bartender, white permanent felt-tip pen texts, drawings over black painted metal, 121 x 443 x 295.5 cm. Installation view: Küba: Journey against the Current, Canetti House, Rousse, Bulgaria. Courtesy of Thyssen-Bornemisza Art Contemporary (Vienna)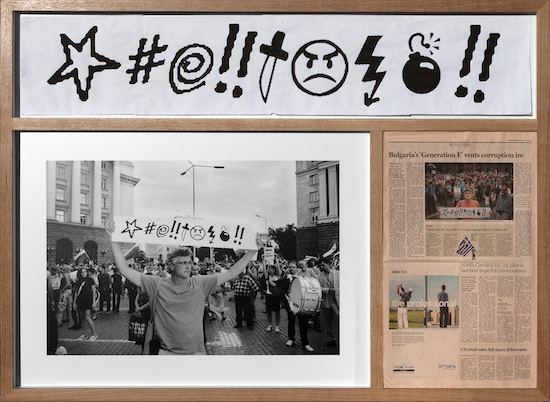 Pravdoliub Ivanov, Tools, 2013, B&W photo, newspaper, printed paper, 85 x 116 cm framed, edition 2. Courtesy of Sariev Contemporary (Plovdiv)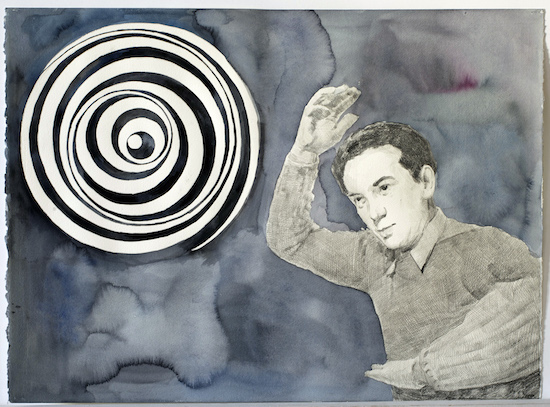 Nestor Kovachev, Anemic Cinema, 2014, aquarell, nero pencil on paper, 56 x 76 cm. Courtesy Gallery Heike Curtze and Petra Seiser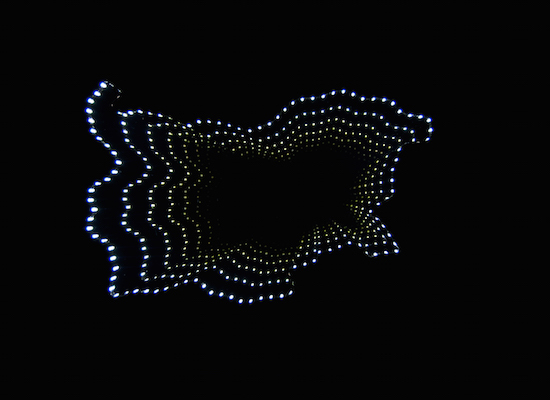 Stela Vassileva, Breach, 2012, wood, glass, mirror, cardboard, LED light, 60 х 80 х 15 cm. Courtesy of Un Cabinet d'Amateur (Sofia) and the artist