Visitor Info
Location
Marx Halle
Karl-Farkas-Gasse 19, 1030 Vienna
Public transport
Tram: 71 (St. Marx), 18 (Viehmarktgasse or St. Marx)
Subway: U3 (Schlachthausgasse or Erdberg)
Bus: 74A (Viehmarktgasse)
Regional express: S7 (St. Marx)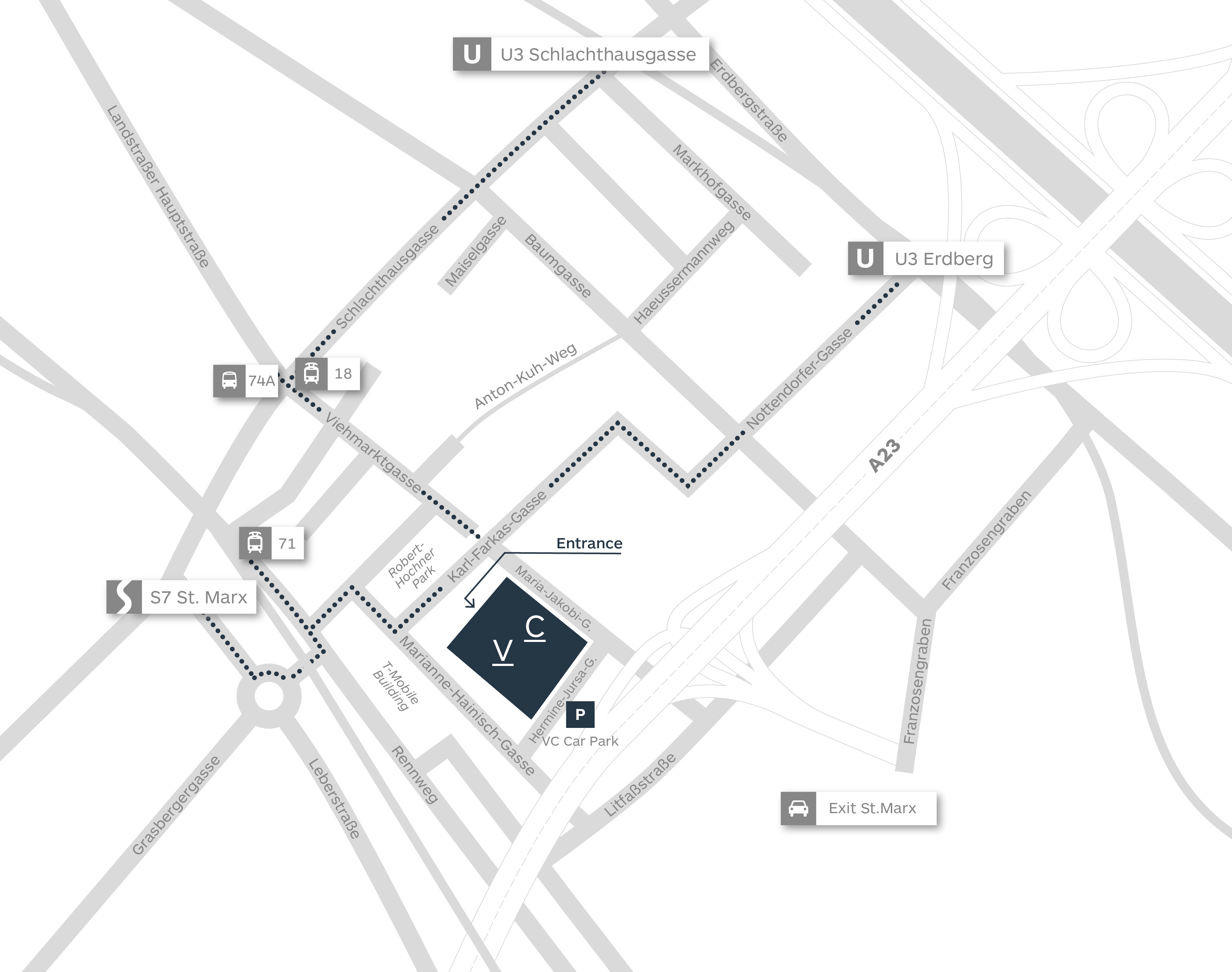 Built in the end of the 19th century by famous architect Rudolf Frey, Marx Halle was the first building in Vienna to have a wrought iron structure. Once a popular local cattle market, the newly renovated industrial style building nowadays serves as a spectacular venue for large-scale events, concerts, and fairs. The hall, with its impressive steel structure measuring 175 meters in length and covering an area of 20.000 square meters, provides extensive exhibition space including booths, special projects, a VIP Lounge, a restaurant, and bars for refreshments. Its light architecture and industrial flair create a unique atmosphere for the presentation of contemporary art, transforming the historical halls into a captivating and focused art discovery experience for its visitors and exhibitors.

Opening Hours
Thursday, 27 September 2018: 12:00-7:00 pm
Friday, 28 September 2018: 12:00-7:00 pm
Saturday, 29 September 2018: 12:00-7:00 pm
Sunday, 30 September 2018: 12:00-6:00 pm
Guided Tours
29–30 September 2018, 1:00 pm, 2:00 pm, 3:00 pm
Start at the Meeting Point
Tours can be joined free of charge with a valid fair ticket
Tickets & Prices
Day Ticket online: 9.00 euro
Available in presale till 30 September 2018.
Vernissage Card online: 35.00 euro
Limited edition, available in presale till 26 September 2018. Card valid for one-time access to the Vernissage on 26 September 2018, 5:00-9:00 pm.
Day Ticket full price: 15.00 euro
Day Ticket reduced: 9.00 euro, for students, seniors, Ö1 Club, PARNASS ARTLIFE – mehr Kunst, Die Presse Club – with valid IDs, with TRAM train ticket
After Work Ticket: 9.00 euro, Thu/Fri from 3:00 pm

Free entrance:
For children and teenagers under 14
For students with a valid student ID after 3:00 pm